Broiled Mozzarella Tomatoes
Baby Kato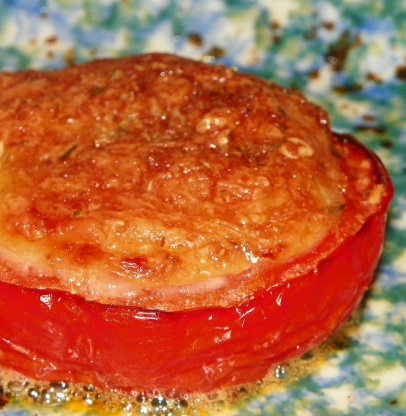 Makes a nice side dish. Great way to eat the big, juicy home-grown tomatoes. I can eat these just by themselves for lunch.

Top Review by Slatts
I made this today for lunch using a meduim sized tomato just for me but following the recipe as is. Two tomato halves and a glass of white wine and I was in heaven but when I was done I wanted more! The second batch I changed up a tad bit. I scooped out the tomato seeds and popped a couple fresh baby mozzarella balls in them. I made the bread crumb mixture as stated with the addition of some fresh chopped basil, salt, and pepper. After topping the tomatoes I cooked them for about 10 minutes at 300 degrees and then broiled them to get them nice and brown on top. I'm tempted to go in and make some more! They taste like a magarhita pizza. Lovely, thanks!
Preheat broiler.
Wash and core tomatoes. Cut a small piece off the bottoms, so that all tomato halves will sit level with cut-side up.
Place tomato halves (cut sides up) on a lightly greased baking pan.
In a small bowl, combine last 5 ingredients and mix well. Sprinkle this mixture evenly on the tomato halves.
Place under broiler for about 3 or 4 minutes or until cheese is bubbly and to desired browness.