Broccolini With Balsamic Vinaigrette
ImPat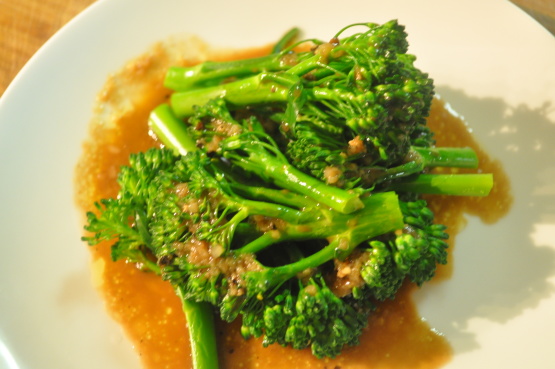 Most of us are very familiar with broccoli but how about broccolini? It's similar to broccoli but more tender and milder in flavor. Nicknamed baby broccoli, broccolini is a hybrid vegetable and a cross between broccoli and Chinese kale. It has small florets and long, thin stalks. This vitamin and fiber packed vegetable is one you'll sure to love. I've topped mine with a skinny balsamic vinaigrette to add some pizzaz…

Top Review by ImPat
I scaled this back for 2 and the DS and I thoroughly enjoyed using broccolini freshly picked from the garden which I cooked in the steamer for 2 minutes so it still had a nice bit of crunch to it and the dressing is a stroke of genius, thank you Nancy Foz, made for All You Can Cook Buffet.
In a large pot bring 6 cups of water to a boil.
In the meantime, remove the bottom third of the broccolini stems and discard.
In a small bowl, whisk together, the olive oil, vinegar, mustard, garlic, and sugar. Set aside.
When the water comes to a full boil, drop in the broccolini. Return to a boil, cover and cook over medium heat for about 2 minutes until the stalks are tender. Drain well and place in a serving dish.
Drizzle dressing over the broccolini and toss to coat. Squeeze lemon juice over the broccolini and sprinkle with salt and fresh pepper.
Serve warm.