2Bleu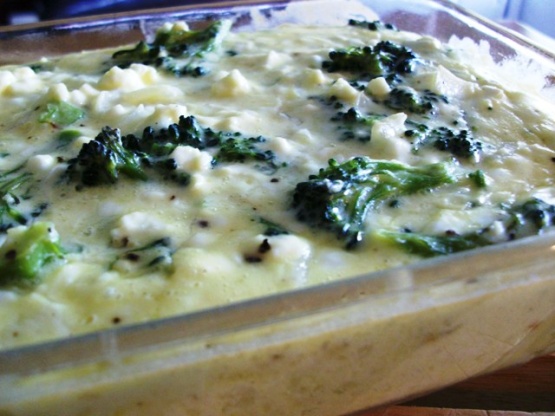 a nice, easy recipe that can be made in 30 minutes. Great for a quick dinner.

I made this for "American Thanksgiving" in Sweden for a bunch of hockey players and they all loved it! Who would have thought that 21-30 year old men with big appetites would have liked the broccoli dish the most? I was really happy with it and I never cook so the fact that I could do this means it's really simple. I didn't add onion because the cheese I had was really strong and with the seasoning I don't think you need any other flavors. Awesome dish!
Cut broccoli into very small florets, leaving very little stem, and place florets and water in a microwavable bowl.
Microwave on high for 3 minutes.
Remove from microwave, add margarine, sprinkle flour over broccoli and toss.
In a large bowl, with beaten eggs, add cottage cheese, cream, 1/2 cup of the cheese, onion, salt, seasoned salt, and white pepper and mix well together.
Combine broccoli and egg mixture and pour into a buttered 7x11 baking dish.
Sprinkle other 1/2 cup of cheese over top.
Bake uncovered at 350 degrees for 30-35 minutes or till center is set.