ladypit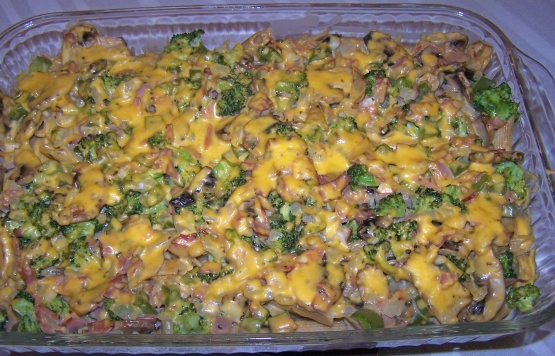 This is a nice casserole to use up leftover ham. No condensed soup needed!

We enjoyed this. I loved that this uses fresh broccoli, which I often have instead of frozen. I left out the fresh thyme and used dry herbs. Fresh would have been better I'm sure, but dried worked in a pinch. I prepped everything in the morning and then put it together at dinner time and baked. Really easy and a nice dinner. Thanks.
Prepare pasta according to package directions; drain well. Spray a 2-qrt casserole with cooking spray. Place drained pasta in casserole and set aside.
Preheat oven to 350°F
Combine milk, flour, thyme and marjoram in a small bowl and set aside.
Heat a large, nonstick skillet over medium-high heat. Add oil and sauté onion, broccoli, mushroom, bell pepper, garlic, salt and pepper for 4 minutes, stirring frequently. Add ham and heat thoroughly, about 2 more minutes.
Add reserved milk mixture and stir until thickened, about 4 minutes; do not boil.
Sprinkle ham mixture over the pasta in the prepared casserole.
Sprinkle with cheese and bake uncovered for 15 minutes, or until cheese is melted.