Breakfast Oatmeal Pudding
bvalco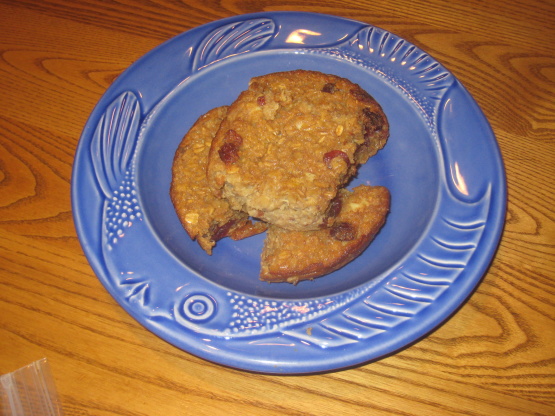 This is a nice and easy way to serve oatmeal. It's very moist and tasty, even my children love to eat this one. Use other dried fruits for a different taste. This recipe comes from a local Toronto paper, yeeeeears ago.
I make this constantly. Sometimes I add chopped apple or a mashed banana to the batter. I also use half steel cut oats for a more toothsome texture. I make the full recipe. Cool and keep it in the frig. It last a week no problem. In the morning I cut off a square, heat it in the nuker add raspberries blackberries banana and a BIG blop of all natural whole yogurt. Best breakfast ever and a cinch to make. This is my favourite way to start the day and has been for awhile now. Delicious
Preheat oven to 350°F.
In a large bowl, combine oats, brown sugar, raisins, cinnamon and salt, mix well.
In another bowl, combine milk, egg substitute, oil and vanilla and mix well.
Add the dry and wet ingredients together and mix well.
Pour into an 8"x8" greased baking dish and bake for 55-60 minutes or until centre is set and firm to the touch.
Remove from oven and cool slightly.
Serve with milk or yogurt and fruit.
Enjoy!