Bread and Butter Pudding - Gluten Free
katew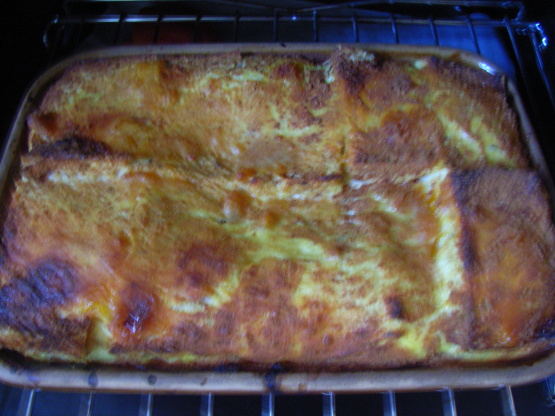 This is a great old-fashioned dessert. It's wonderful in winter and a good way of using up your stale gluten-free bread. Its great with cream or ice-cream

Top Review by katew
Made as written but used dried apricots instead of sultanas and also used wholegrain bread. This was wonderful comfort food and it came out of the oven all puffy and golden. DD said she would prefer it sweeter but that is her sweet tooth talking. I loved it as is and will try it cold tomorrow.
Mix and whisk together the eggs, milk and cream in a medium sized bowls.
Remove crusts from bread and butter each slice. Cut bread slices in half into traingles.
Grease an oven-proof dish or ramekins.
Layer the bread into the bottom of the dishes. Overlap the bread in layers so that it looks pleasing. Any bread that is above the custard layer will brown beautifully.
Sprinkle the dried fruit over the bread.
Pour the custard mixture over the bread and then sprinkle over cinamon.
Bake at 180°C for 20-30 minutes.
Pudding is best eaten warm but can be eaten cold also.