Prep 10 mins
Cook 20 mins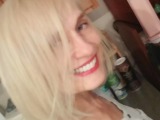 Based on a recipe from The Fresh Vegetable Cookbook from Nitty Gritty Productions. This is one of the first cookbooks I've owned, a gift from a dear friend who desperately wanted to see me cook my way to health and happiness. These carrots are so good that my DH even asks for them – and he normally despises carrots!
Directions
Peel carrots and cut in thin, diagonal slices.
Add water, 3 tablespoons butter, salt and brandy to medium saucepan. Add carrots. Cover and cook on low until liquid is absorbed and carrots are just tender.
Add remaining 1 tablespoon butter and heat thoroughly.
Garnish with parsley and serve.
Reviews
Most Helpful
Delicious carrots mersaydees. I followed exactly as written, I think I may have just overcooked them a touch, but they were still wonderful. I didn't really taste the brandy in them but the flavours were great. Nutty, buttery with a slight natural sweetness! Yummy! And just so easy to make whilst the rest of the dinner is cooking. Will make this again as the family loved them. Thansk mersaydees.

I didn't make the full pound of carrots since it's just me and hubby, so I adjusted the ingredients accordingly. Loved the brandy taste in this dish. I also left out the salt. Made for Special Event - Adopt A Veggie Tag Game 2011.

*Made for Australia/NZ Swap #43* SO sweet and delish ! Took about 1/2 pound of carrots, fresh from the garden, well scrubbed, and sliced. Simmered per instructions, and served with butter and chopped parsley from the garden. A tasty, no-fuss recipe served with a grilled tenderloin steak. Thanks for posting, mersaydees.