gailanng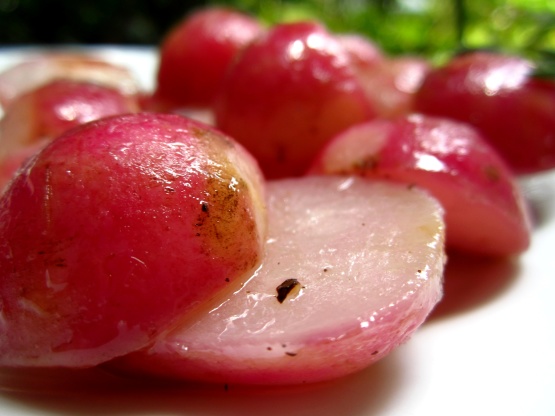 A new and exciting way to get your loved ones to eat radishes. Even the pickiest eaters will enjoy radishes prepared this way. I know, I was one and I have been converted. Braising tenderizes and mellows the peppery taste of the radish.

I didn't completely cover the radishes with water and I still had more liquid than glaze. So when the radishes were done, I removed them from the sauce and cooked it down, trying to get a glaze. I still didn't really get a glaze but I poured it over the radishes anyway. The flavor was good. I thought they tasted like a cross between cauliflower and turnips.
Wash and trim radishes, if large cut them in half.
Add radishes to a deep pan, add enough water to cover them.
Add the butter, olive oil, sugar and salt.
Cover and bring to a boil.
Reduce heat to medium low and simmer, covered for 12 minutes. (radishes should be tender and the liquid reduced to a glaze)
If the radishes are cooked before the liquid has reduced then remove the radishes and cook liquid, uncovered until it thickens to a glaze.
Toss the radishes in the glaze, sprinkle with the pepper and parsley and serve.