Braised Pork Loin With Sage
Rita1652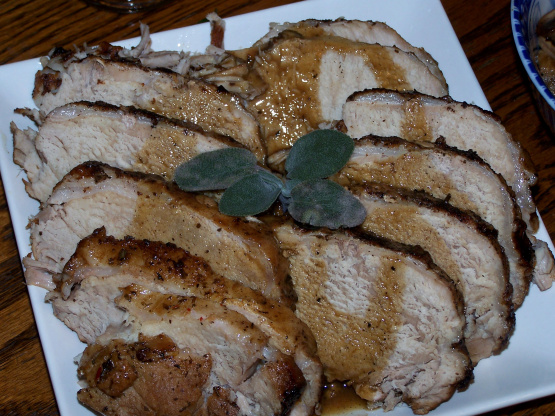 A wonderful aromatic dish out of William-Sonoma. Braising the pork gives a deep flavor to what can be a rather bland meat.

Excellent! I used my Recipe #206538. This is easy to make and gives a great wine sauce. After defatting the pan juices I deglazed with white wine then added some water which I whisked the flour into skipping the additional butter which is not in the ingredients. Thanks for good eats!
Trim excess fat from pork.
Tie with butchers string.
Put 3 sage leaves on top and 3 on the bottom of roast under string.
Rub the meat with salt & pepper.
In a dutch oven, on med-high heat, melt butter and oil, when hot add the pork and sear quickly on all sides, 5 minutes or so. The sear is very important. Reduce heat to med-low and add garlic (whole) 1-2 minutes transfer meat and garlic to plate, pour off fat.
Return meat to pan( with garlic) and bay leaf.
Add 1/2 cup wine, vinegar, and 2 more sage leaves.
Cover tightly, reduce to low, simmer for 2 hours turning 1/2 way through cooking, add more wine if needed.
Let meat rest covered in foil.
Meanwhile, discard bay,garlic,and sage from pan.
Skim fat off (you need about 1 cup of liquid, add water if needed.
Melt 1 tbsp butter into separate pan add flour and cook 1-2 minutes add pan juices whisking constantly until thick and smooth.
Arrange meat on platter, spoon sauce over top and garnish with sage leaves.