Braised Fennel and White Beans
ChefLee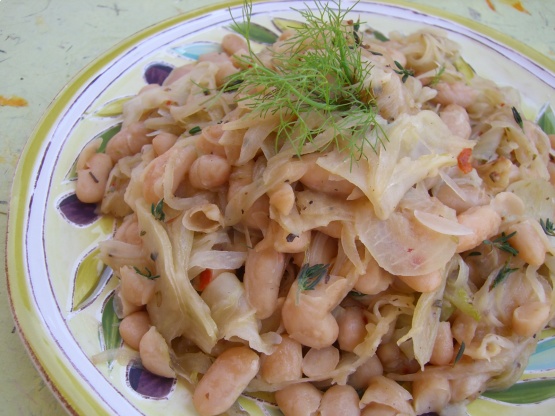 From Martha Steward Living, January 2007. Posted for safe keeping.

Top Review by dna414
This was my time cooking with fennel, in fact I don't like the taste of anise. I'm glad I tried it because this was delicious. I made one batch which everyone tried and loved so I went to the store, got more fennel and made a double batch the same day for dinner. I didn't have any chicken stock so I used vegetable bouillon cubes dissolved in water for my broth. I also used dried oregano. Delicious. Thanks for posting this recipe.
Heat oil in a large heavy sauté pan over medium high heat. Add fennel and onion; cook, stirring occasionally, until tender and edges are brown, about 10 minutes.
Add beans, stock, oregano, 1 tsp salt and 1/4 tsp pepper. Cook, stirring occasionally, until liquid has reduced by about half, 3 to 4 minutes. Stir in vinegar and butter; remove from heat.
Garnish with additional oregano leaves to serve.