Braised Chicken Thighs With Bell Peppers, Olives and Tomatoes
KateL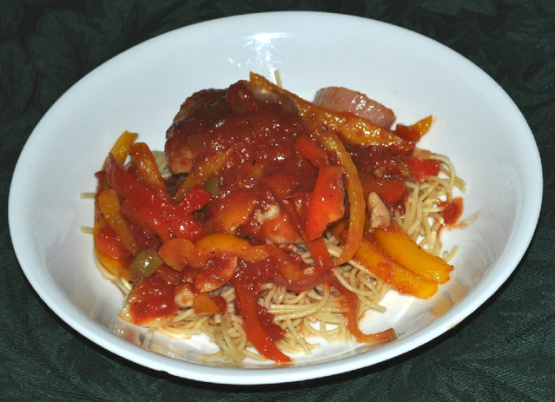 This used what I have on hand, it has been tweaked a bit from the original recipe in Martha Stewart Living, March 2004. Although this uses 10 cloves of garlic, crushed whole garlic isn't as strong as chopped or minced garlic. Supposedly the tomatoes in canned whole tomatoes are of better quality than those used for canned crushed tomatoes, but sometimes every minute counts. You may use fresh tomatoes, but you may want to add more salt to suit your taste preference. Serve over pasta or rice. (Served over whole wheat pasta.)

Another recipe that I cut in half to serve the 2 of us, & although we're usually chicken breast addicts, I did use thighs this time & followed the ingredients right on down, although I did use lemon pepper instead of the usual S&P (one of my usual substitutions)! Definitely a different kind of chicken dish then we often have, & satisfyingly tasty in its own right! I particularly liked the inclusion of the Spanish olives in this one! Thanks for sharing the recipe! [Tagged & made in Please Review My Recipe]
1

tablespoon extra virgin olive oil
1 1⁄2 lbs boneless skinless chicken thighs
kosher salt, to taste
fresh ground black pepper, to taste

2

yellow bell peppers, seeds and ribs removed, thinly sliced lengthwise julienne-style

2

red bell peppers, seeds and ribs removed, thinly sliced lengthwise julienne-style

1

medium onion, thinly sliced (about 3/4 cup)

10

garlic cloves, crushed with the flat side of a knife blade

28

ounces canned whole tomatoes or 28 ounces crushed tomatoes
1⁄4 cup Spanish olives, pitted and quartered

1

dried bay leaf

1

teaspoon paprika
1⁄4 teaspoon dried thyme
1⁄2 cup water
salt, to taste
black pepper, to taste
In a Dutch oven (5-quart pot with a tight-fitting lid), warm oil over medium heat.
Season chicken with salt and pepper, and cook until browned, about 3 minutes per side. Transfer to a plate.
Add bell peppers, onion, and garlic to pot; cook, stirring occasionally, until softened, about 5-7 minutes.
If using whole tomatoes, gently crush tomatoes with your hands; add them to the pot along with their juice. If using canned crushed tomatoes, empty can into pot.
Add the pitted and quartered olives, the bay leaf, paprika, thyme, and water to the pot. Bring to a boil. Season with salt and pepper to taste.
Return chicken to pot; reduce heat. Simmer, partially covered, until chicken is falling-apart tender, about 30-45 minutes.
Discard bay leaf, serve hot over cooked pasta or rice.