Bourride Sètoise - Provence Fish Soup With Aïoli
Thorsten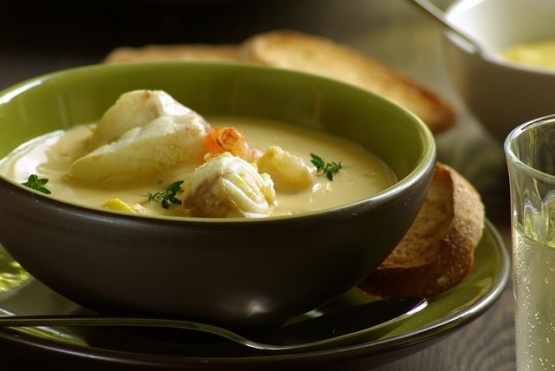 Bourride is a classic Mediterranean fish stew or soup, which is much less complicated and expensive to make than bouillabaisse. There are various local variations, this version originates from Sète, where they make it with monkfish & no other type of fish is added; however, in Marseille they use a mixture of any firm white fish. Some people serve the broth on its own, followed by the fish and vegetables with boiled potatoes and aïoli. Another way of serving it is to put slices of French bread in bowls and pour the soup over them. However, this version is slightly more restrained and elegant! There is a local myth that says, when the Greek gods got bored with Olympus they came to Marseille to eat bourride, this being the only food that was fit for the gods! Don't be put off by the amount of garlic that goes into it, the soup itself tastes creamy rather than garlicky, and it's up to you how much aïoli you spread on your bread! This is a much adapted recipe taken from one of my favourite French cookbooks, "La Cuisine du Sud - Poissons et Fruits de Mer" This quantity serves 6-8 people, with copious amounts of French bread & aïoli.....oh yes, don't forget the Pastis too!

Just AWESOME. If you don't know why people in France are the happiest, when they have fish soup, try this one and you will know. It is nothing better than a fish stew like this, a lot of toasted bread, Aioli, and a glass of white wine and pastis. Follow this direction and you will have one of the most flavorful fish soups. I've made it with monk fish, sea perch and some tiger prawns (because I have had them at hand). To thicken the soup with the aioli and egg yolk makes the soup very creamy and of a wonderful smooth consistence. The garlic flavor is not dominating in the soup. Poach the fish as described here and you will have soft but still firm fish pieces. I only can suggest to make this soup for a lot of guests, because it tastes even better with friends around. Toast enough thin sliced french bread. I toast them and let them dry a bit, so that they are very crunchy. Put them in the soup, a wonderful combination. Or use the aioli. I served it with the white wine I used in the soup (Saumur, a dry and light white wine). And of cause don't miss to serve a pastis. Ready for a wonderful french dinner? As I said: just awesome.
In a large pan bring to the boil the roughly chopped tomatoes and onions, 5 cloves of garlic, the thyme, saffron & orange zest.
Add 2 tablespoons of the olive oil & one glass of white wine plus 1 litre of water.
Simmer for 20 minutes.
Meanwhile, pound the remaining garlic to a puree in a pestle and mortar (or liquidise it if you are feeling lazy).
Blend in 2 egg yolks and add salt and pepper.
Gradually beat in the remaining olive oil in a thin stream, using a whisk, until you feel the aioli is thick enough.
Add lemon juice to taste and leave on one side. (Reward yourself for your efforts by drinking the other glass of wine!).
Cut the skinned and boned fish into 1" chunks and add it to the saucepan.
Poach for 15 minutes.
Then remove the fish with a draining spoon and keep warm.
Sieve the stock and discard the *vegetables.
Return the stock to the pan and reheat gently.
Take about half of the aioli and beat the remaining egg yolk into it. Then slowly pour the warmed stock onto it, stirring constantly.
Return this mixture to the pan and heat gently, stirring all the time, until it thickens slightly.
It should be like rather thin custard. Don't let it boil, or it will curdle.
Divide the cooked fish between serving bowls and pour the soup over it.
Serve with thin slices of toasted French bread and the remaining aioli.
NOTE: I serve the *vegetables - tomatoes, onions & garlic on the side as an extra vegetable.