Ms B.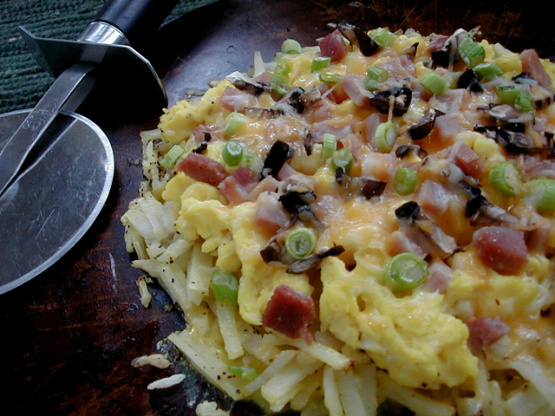 A tasty Pampered Chef recipe using a 15" round baking stone. (Fall/Winter 1997 Season's Best Recipe Collection by The Pampered Chef)

I didn't have green onion, only red. I did pre-cook the onion and red pepper before adding it, and left out the mushrooms.
Preheat oven to 400 degrees.
Cover 15" Round Baking Stone with sheet of Parchment Paper.
For crust, combine potatoes, egg, salt, and pepper in a 2 quart bowl; mix well.
Spread potato mixture into a 14" circle on prepared stone; pat down with spatula.
Bake 10 minutes; remove from oven.
For egg topping, whisk eggs and milk in a 1 quart bowl.
Season with salt and pepper.
Microwave on high 3 minutes; stir.
Microwave an additional 3 minutes; stir.
Spread the cooked egg mixture evenly over the potato crust.
Chop ham and bell pepper.
Slice mushrooms and green onion.
Sprinkle ham, bell pepper, mushrooms, onions, and cheese over the eggs.
Bake 10 minutes.
Cut as you would a pizza and serve.