Derf2440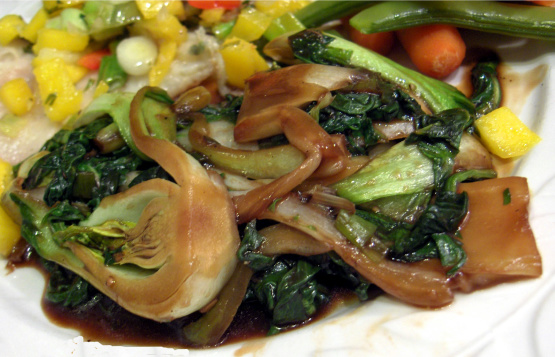 This is a wonderful side dish for an Asian style entree. Bok choy has a wonderful, crisp texture that is reminiscent of celery. You can easily add shrimp or chicken to make a main dish, but I recommend doubling the sauce if you do so. Simple and yummy:)

Good recipe! I separated the whites of the bok choy from the leaves - I used the whole thing and didn't measure. Cooking the white parts first and then adding the greens at the end of the cooking. As others suggested I added sliced baby bella mushrooms, snap peas and some shrimp and doubled the sauce. Very tasty over brown rice. Next time I will add some spice to heat it up a bit.
Heat oil in saucepan over medium heat.
Add garlic, ginger, black pepper, and bok choy.
Stir fry about 3 min.
In bowl, combine dissolved boullion and water, soy sauce, sugar, and cornstarch.
Whisk well.
Add cornstarch mixture to skillet and stir fry until sauce thickens and cabbage is tender, about 3 min.
Serve hot.