Blueberry Sour Cream Pancakes With Blueberry Sauce
Bayhill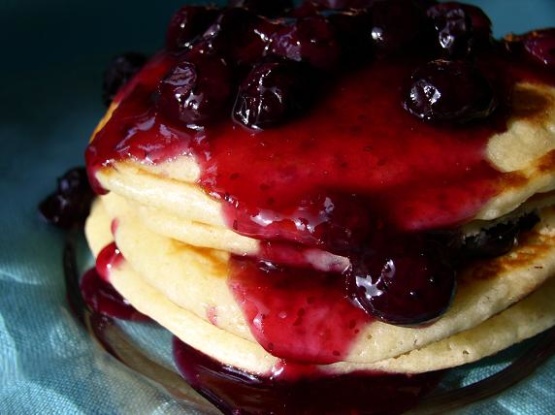 These are really good. Using fresh blueberries is best. Credit for this recipe goes to Paula Hadley, Forest Hill, LA, as printed in Taste of Home's Family Collection Cookbook.

5 stars all the way. My mom loved these for her Mother's Day breakfast. I made the pancakes as called for in the recipe, except I left the blueberries out of the batter and placed them on each pancake just before flipping them. Doing it this way ensures that the batter does not turn blue! I only had 1 cup of blueberries for the sauce recipe but it still turned out wonderful.
In a medium saucepan, combine sugar and.
cornstarch.
Gradually stir in water.
Add blueberries and bring to boil over medium heat.
Boil for 2 minutes stirring constantly.
Remove from heat.
Cover and keep warm.
Pancakes: Combine dry ingredients in bowl.
In another bowl, beat the eggs.
Add milk,sour cream, and butter.
Mix well.
Stir into dry ingredients just until blended.
Fold in the blueberries.
Pour batter by 1/4 cupfuls onto greased hot griddle or pan.
Serve with blueberry topping.