Bayhill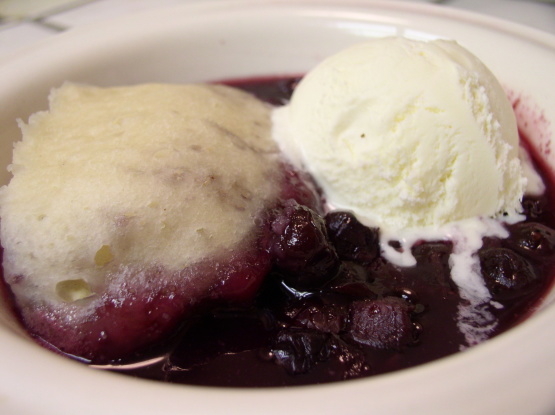 Wonderful way to use fresh or frozen Maine Blueberries! Serve with real whipped cream or Vanilla Bean ice cream. SWEET!

Just what I needed. There was a huge sale on blueberries today along with a heat wave. I wanted something sweet that did not need an oven, plus it had to be quick with very few ingredients. This fit the bill perfectly. Served with vanilla yogurt. Thanks for a quick and tasty recipe.
Mix together dumpling ingredients in a bowl.
Mix together blueberry sauce ingredients in a heavy bottomed saucepan over medium heat. Bring to a boil, stirring frequetly.
Turn down burner to low, while alowing the syrup to simmer, add dumpling (should make 6).
Cook 10 minutes with lid on (NO PEEKING)!
Cook 10 minutes with lid off.
Serve warm with whipped cream or ice cream.