Blueberry Cheesecake Bars (Shortbread Crust)
Tugar357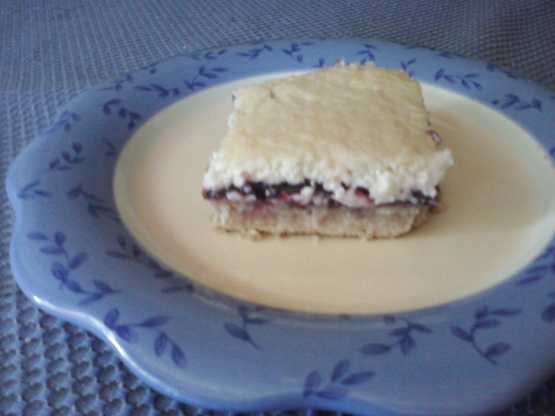 I can't remember where I got this, but it rocks. One happy accident which I didn't do this time, is to mix the pie filling or preserves into the cheesecake batter. Makes it more stable for transport and handling.
Preheat oven to 350°. Cut butter into 1/2 inch cubes. In a food processor, add cubed butter, flour, brown sugar, and salt.
Process until mixture forms small lumps.
Sprinkle into a greased 13 x 9 x 2 inch baking pan, pressing down with spatula to form crust.
Bake in the middle of oven until golden brown, about 20 minutes.
In a bowl whisk cream cheese until smooth then add eggs, white sugar and vanilla.
Evenly spread preserves over hot shortbread for traditional look then cover with cheesecake mixture. For a more stable bar, mix preserves into batter.
Bake for 20 minutes. Cool completely, then refrigerate at least 3 hours ( good luck with that step).