Blue Ribbon Carrot Cake [with Buttermilk Glaze]
gailanng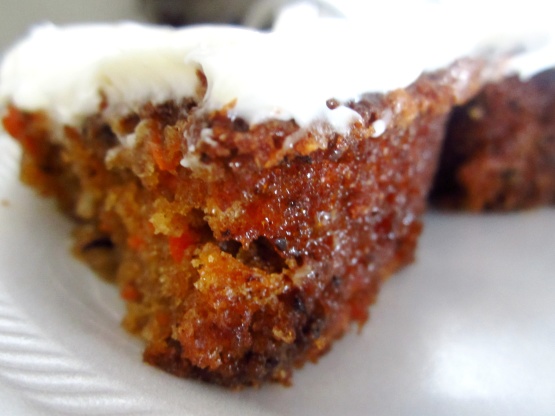 From the Recipe Hall of Fame Cookbook II. This recipe includes a buttermilk glaze in addition to cream cheese frosting. Preparation time does not include chilling time. This cake is knock-down, drag-out delicious.

This is the best carrot cake I have ever had. It is the one we used to serve at T.G.I. Friday's back in the eighties. Fabulous!!! Be careful not to let the buttermilk glaze boil over (which it does easily). Use a sheet pan. This is really too moist for a layered cake treatment. Go easy on the orange zest in the frosting. Poke holes in the top of the cake with the blunt end of a bamboo skewer to allow the buttermilk glaze to soak in evenly. This can be made several days in advance for a party. I have one in the refrigerator that is 13 days old and just as good as the day it was made. If I could give an extra half of a start, I would.
For Buttermilk Glaze:.
In small saucepan over high heat, combine sugar, baking soda, buttermilk, butter, and corn syrup.
Bring to a boil.
Cook 5 minutes, stirring occasionally.
Remove from heat and stir in vanilla.
Set aside until cake is baked.
For cake:.
Preheat oven to 350.
Generously grease a 9x13 baking dish or 2 9" cake pans.
Sift flour, baking soda, cinnamon and salt together.
Set aside.
In large bowl, beat eggs.
Add oil, buttermilk, sugar and vanilla and mix well.
Add flour mixture, pineapple, carrots, coconut, raisins and walnuts and stir well.
Pour into prepared pan.
Bake for 45-55 minutes or until toothpick inserted in the center comes out clean.
Remove cake from oven and slowly pour over buttermilk glaze over hot cake.
Cool cake in pan until buttermilk glaze is totally absorbed, about 15 minutes.
For Frosting:.
In large bowl, cream butter and cream cheese until fluffy.
Add vanilla, powdered sugar, orange juice and orange peel.
Mix until smooth.
Frost cake and refrigerate until frosting is set.
Serve cake chilled.