Blue Cheese Stuffed Chicken Breasts
aylett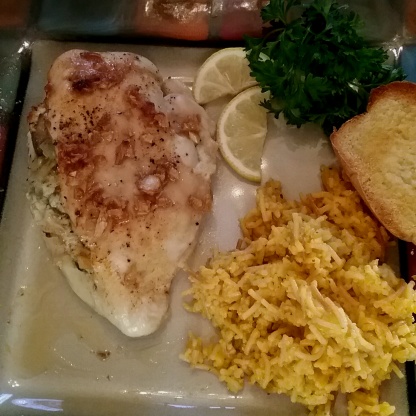 Yet another recipe from the local paper that I want to try ... some day. I did try this recently and we all really liked it. Next time I think I'll place a small amount of blue cheese on top of the chicken when it comes out of the oven and is served. The cheese/butter mixture melts during cooking and even though the flavor is wonderful, everyone said more cheese on top would be nice. Also, I think the little bit of sauce that there is, would be nice thickened and spooned over the chicken too. Let me know what you think.

This was very tasty and easy to make. I took the good advice of Mary and thickened up the bit of sauce that there is after cooking. While the chicken was cooking after being turned, I added 1 tsp of cornstarch to 3 tsp of cool water, mixed and let it sit. When the chicken was done, I put the cooked breasts on a plate and added a thin slice of blue cheese to each piece and covered. Then I set the pan on the stove top and added about a half cup or so of dry white wine (pinot grigio)and brought that to a boil which loosened up the flavourful bits on the bottom of the pan. Then I gave the cornstarch mixture a stir and added it stirring constantly until it thickened up - about one minute. Created a very tasty reduction sauce which I spooned over the chicken breasts before serving. You could use chicken stock instead of the wine to make the reduction sauce. Next time I think I'll use a mixture of half a cup of wine and half a cup of chicken stock. Also, next time I'll only add extra slices of the blue cheese to those that have had blue cheese before and not to the rest. It's definitely an acquired taste. I served this with a salad of baby greens and fresh lightly steamed asparagus with Lemon Dijon Salad Dressing #213686 lightly spooned over both. And potatoes' boiled with 1 tsp of chopped garlic, drained and added 1 Tbsp of butter to.
Preheat oven to 425.
Combine 1 tablespoons butter, thyme, and blue cheese in small bowl until blended. Season with salt & pepper and set aside.
Cut a horizontal line in the thickest side of each chicken breast to form a pocket, but not cutting all the way through.
Stuff blue cheese mixture into pocket with small spoon.
Place chicken in a baking dish. Season with salt & pepper. Bake 15 minutes, uncovered.
Meanwhile melt remaining 1 tablespoons butter; stir in lemon juice and paprika. Turn chicken, brush with lemon mixture and bake additional 10 to 15 minutes or until chicken is cooked through (use thermometer in unstuffed area).