Boomette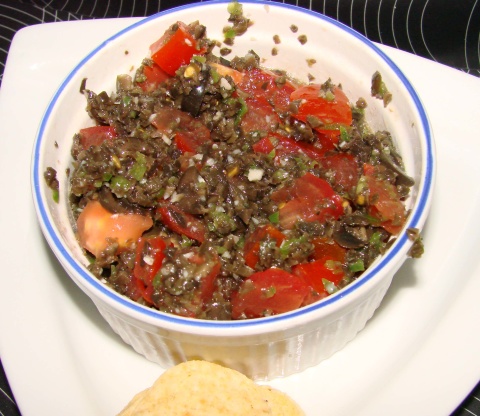 This dip goes great with baked pita chips (which you can make yourself) or the blue corn tortilla chips. You can vary the heat in this by adjusting the amount of jalapenos that goes in.
This is so yummy and very original. I made half the recipe. I was afraid the jalapeno would make it too spicy so I used way less than half of it. But next time I'll add more. DH found it too mild. The taste is so good with the black olives, tomatoes, jalapenos... Thanks Becky :) Made for I Recommend tag game
Chop green onions and tomatoes by hand.
Chop olives, jalapeno and garlic in food processor.
Mix with the onions and tomatoes.
Let stand 3-4 hours before serving.
Drain juice.
Add the olive oil and vinegar and stir and serve.