Boomette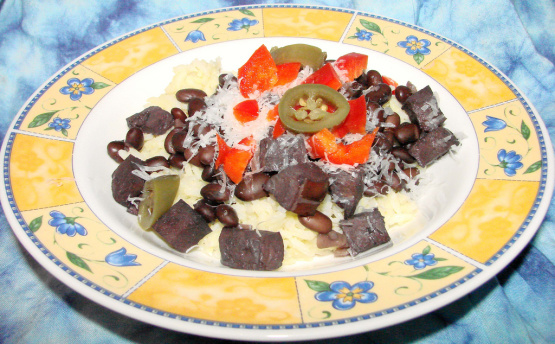 A recipe I made today that is from Taste of Home Guilt Free Cooking cookbook. One serving (1 cup bean mixture with 1/2 cup rice).

i used canned beans which came to 1 cup drained, and 1/2 cup rice .next time i would make them even . i tried to cook in rice cooker but that didnt work. it was to heavy rats . i added the bay leaf and 1/4 c corn frozen,it was great i tried it with some vinegar i liked it both ways no oil though . i used jarred garlic , make this its wonderful
Place beans in a Dutch oven or soup kettle; add water to cover by 2 inches. Bring to a boil; boil for 2 minutes. Remove from the heat; cover and let stand for 1 to 4 hours or until softened (I waited 4 hours). Drain and rinse beans, discarding liquid.
Return beans to the pan. Add 7 cups water, ham, garlic, pepper, cumin, salt, bay leaf and liquid smoke if desired. Bring to a boil. Reduce heat; cover and simmer for 1 1/2 hours or until beans are tender.
Meanwhile, in a saucepan, bring broth an drice to a boil. Reduce heat; cover and simmer for 20 minutes or until rice is tender. Just before serving, discard bay leaf from bean mixture; add vinegar and oil (I don't know if it's supposed to be that way, but I had a lot of liquid and didn't see why I would add vinegar and oil.) Serve over rice. Sprinkle each serving with 1 tablespoon cheese, 1 tablespoon red pepper and 1 teaspoon jalapenos.