GaylaJ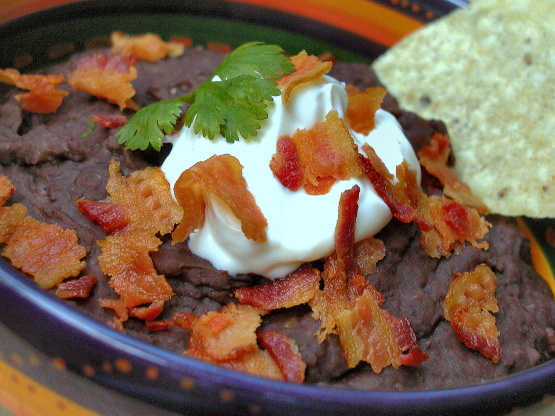 This is not repeat not diet, but oh sooo good!! - Ann Petrone

I really enjoyed this dip, and so did my picky husband! I used canned black beans though and because I drained and rinsed the beans I added about 1/2 cup chicken broth when I blended the beans to make them smooth. I'll be making this again soon. Thanks.
Blend beans in a blender until creamy.
Saute onion and garlic in bacon fat until brown.
Add all ingredients except bacon and sour cream.
Cook over medium heat until boiling, stir occasionally to avoid sticking.
Remove from heat at least 10 minutes before serving to allow thickening.
Top with sour cream and bacon.
Serve with hot tortilla's or corn chips.