loof751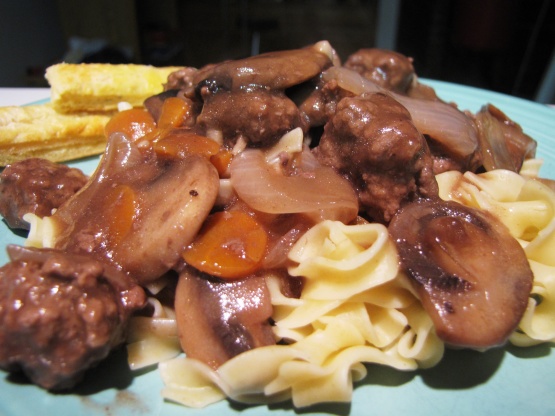 I usually don't post recipes I've never tried - here's the first one. It's from a pasta bag, presumably egg noodles! This sounded really good (except I would omit the mushrooms - can't stand them), so I thought I would post it. If you try it before I do, please write a review. UPDATE: I made this for dinner tonight and it was really good, though I 'swerved' for the original directions. I cooked the ground beef (crumbled) with the next six ingredients, and then followed the directions from step # 5 on. This one-pan meal came out really nice - I omitted the red wine, didn't have any, so I used extra broth. DH gave it a "4" for 1st effort - I think I will add 2x the worshestershire or a minced green pepper next time I make it. And I will definitely make it again -- definite comfort food material!

I made this almost as written. I minced the onions rather than cutting them into wedges and used shredded carrots rather than chopped. I think we would have preferred to crumble the meat as suggested in the recipe introduction. Made for ZWT8.
In medium bowl combine beef, minced onion, Worchestershire and 1/4 teaspoon pepper.
Shape into 1-inch meatballs (about 24).
In large skillet melt butter over medium-high heat.
Add onion wedges, garlic and mushrooms; saute 8-10 minutes or until browned.
Add broth, meatballs, carrots, salt, thyme and remaining 1/4 teaspoon pepper.
Reduce heat to medium; simmer, stirring occasionally, 8-10 minutes.
Combine red wine and corn starch; stir until smooth. Stir into skillet.
Stirring constantly, bring to boil; boil 1 minute.
Place prepared egg noodles on a serving platter; top with meatballs and sauce.