Biscuit-Topped Chicken Pot Pie
PaulaG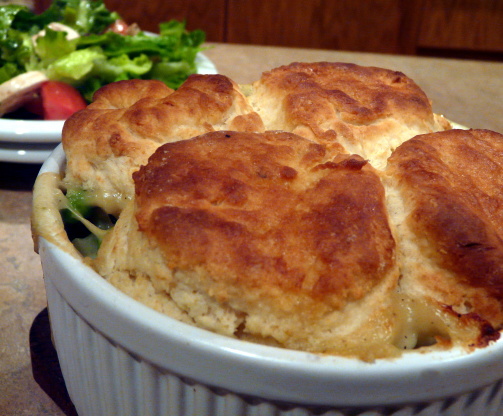 When I think of comfort food, this is the first dish that comes to mind. This is one of my family's favorite dishes. I make it often, especially when it is cold and rainy outside.
This is like my grandmother's biscuit-topped chicken pie, right down to the peppery flavor. I added some finely-chopped flat leaf parsley to the biscuit dough. I cycled back on the black pepper quite a bit because my husband objects to too much; personally, I love it. This is the pot pie recipe I've been seeking for many a year. It is perfect to clear out little bits of everything from the fridge. My dairy was a whisked-together combination of 1/2 & 1/2, rice milk, plain yogurt and buttermilk. I made buttermilk biscuits for the top. This will definitely be in the supper recipe rotation for the new year.
6

cups water

3

stalks celery
1⁄2 onion, quartered

1

teaspoon poultry seasoning, to taste

1

teaspoon salt, to taste
1⁄2 teaspoon black pepper, to taste
1 1⁄2 tablespoons chicken base (such as Minor's)

2

cups carrots, peeled and diced

3

cups potatoes, peeled and diced
1⁄2 teaspoon black pepper, to taste

1

teaspoon salt, to taste

1

teaspoon onion powder, to taste
3⁄4 teaspoon poultry seasoning, to taste
1⁄2 cup onion, coarsely chopped

1

cup frozen peas, thawed
1⁄2 cup celery, coarsely chopped

1

(12 ounce) can evaporated milk
1⁄3-1⁄2 cup flour (or enough to thicken sauce as desired)

BISCUIT TOPPING

2

cups flour

3

teaspoons baking powder
1⁄2 teaspoon salt
1⁄3 cup shortening
3⁄4 cup milk
Put chicken breasts in a large pot with water, 3 stalks celery, 1/2 onion, 1 teaspoon poultry seasoning, 1 teaspoon salt, 1/2 teaspoon pepper, and Minor's chicken base. Simmer, covered, until chicken is tender. Remove chicken and let cool. Tear chicken into bite-sized pieces; set aside.
Reserve 4 cups of the broth in the pot; discard the cooked vegetables. To the broth, add the carrots, potatoes, 1/2 teaspoon pepper, 1 teaspoon salt, onion powder, and 3/4 teaspoon poultry seasoning. Cook for 10 minutes. Add 1/2 cup chopped onion, peas, and 1/2 cup chopped celery. Cook for an additional 10 minutes or until vegetables are tender; add chicken.
In a small bowl, add flour to the evaporated milk; stir into the vegetable mixture. Cook until the mixture thickens (add more flour if necessary). Adjust seasoning, if necessary. Pour the mixture into a greased 9x13" baking dish. Top with biscuit rounds, cutting some in half, if necessary, to cover top of mixture. Bake in a 400 degree oven for 25 minutes, or until biscuits are golden brown and mixture is bubbly. Remove from oven and brush tops of biscuits with butter or margarine.
Biscuits:.
In a medium bowl, stir together flour, baking powder, and salt. Cut in shortening until mixture resembles coarse meal. Add milk; mix well. Turn dough onto a lightly floured surface. Roll out to 1/2" thickness. Cut with 2-3/4" biscuit cutter. Makes 15 biscuits.