Cauliflower Chicken Pot Pie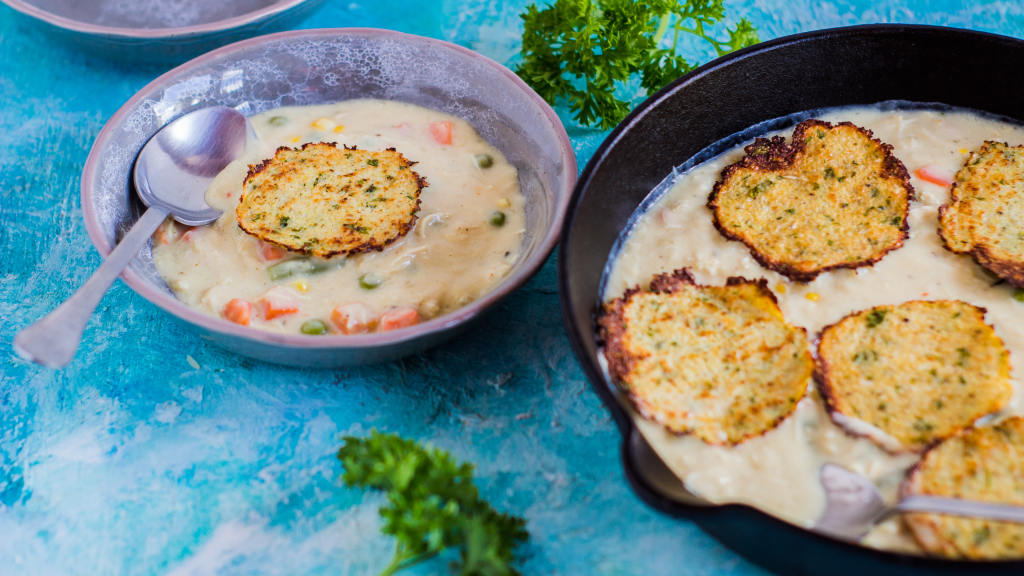 Ready In:

1hr 35mins

Ingredients:

15
directions
Preheat the oven to 400 F and line a baking sheet with parchment paper. Trace 7 circles onto the parchment with a 3 1/2-inch round cutter.
Add the cauliflower to a microwave-safe bowl and microwave according to package directions. Let cool.
Squeeze out as much liquid as possible from the cauliflower, using a dish towel to wring out the moisture, then add to an empty bowl. Add remaining crust ingredients and mix to combine.
Scoop 4 tablespoons of the mixture into each of the drawn circles on the baking sheet. Shape into a round disc, about 1/2 inch thick. Bake for 15-20 minutes, or until golden brown, flipping halfway through.
Whisk together the chicken broth, corn starch, and thyme in a liquid measuring cup and pour the mixture into an 8-inch cast iron skillet. Bring to a boil, then lower heat and simmer over medium heat until thickened, about 5-10 minutes.
Turn the heat down to medium-low and stir in the chicken, vegetables, and cream. Season with salt and pepper. Cook until heated through, 5 minutes.
Garnish with chopped parsley. Top with fresh baked cauliflower crust.