Bird's Strawberry Cake With Lemon Filling
diner524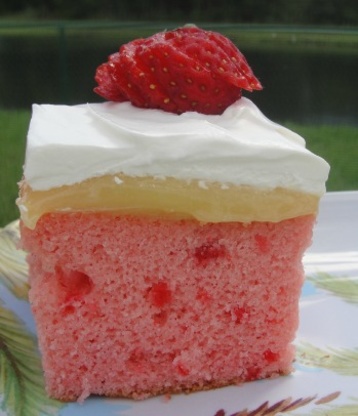 One of my favorite desserts. You can make a 9x13 sheet cake, or choose a 3-layer cake. Most of the time I just use a can or two of lemon pie filling, but if you'd like to make your own microwave-easy lemon curd, The recipe is included (which is best made by making the lemon curd the day before. Makes 3 1/2 cups of curd).
Loved the combination of the strawberry and lemon flavors!! I made my own lemon curd recipe from a ice cream pie recipe I have posted, as I knew I liked the strong lemon flavor of it, but otherwise, followed as written. I also enjoyed the less sweet cool whip for a frosting. Thanks for sharing. Made for PRMR Tag Game.
LEMON CURD: In a microwave safe bowl mix sugar, cornstarch, salt, egg yolks, half and half, and lemon juice. Whisk until blended.
Place in the microwave and cook on high for 2 minutes. Remove and whisk to smooth. Repeat this two times until pudding has thickened.
Add in the butter and vanilla. Mix well until the butter is melted.
Cover with plastic wrap directly on top of the filling and chill at least 4 hours (overnight is best).
CAKE: Make cake according to package directions. (You can either make a 9x13 cake or a layer cake. I usually use 3 round cake pans, and make a tri-tier cake). Cool completely.
ASSEMBLY: Spread lemon curd over top of cake for a 9x13, and top of first and second layer only if making a layer cake.
Spread cool whip over top (and sides if making a layer cake). Refrigerate 4-8 hours.
Garnish with fresh strawberry slices. Serve. (Keep leftovers refrigerated).