Bill's Creamy Red Potato Soup
ekfoultz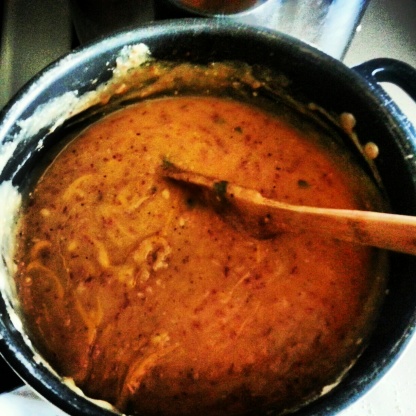 Delicious potato soup using red potato's and lots of onion. It gets even better when the soup is refigerated overnight.
Loved it!! I did use bacon grease and a little less dill.. This a good recipe to go by...
Do not peel potatoes, cut them in 1 inch squares, set aside.
Dice 5 carrots, no need to peel, set aside.
dice onion and mince garlic.
in large soup pan, sautee garlic and onion in oil or butter for aprox 5 minutes.
pour vegetable broth into pan, add carrots and potatoes.
wait until liquid comes to a boil, turn on medium-low and cook for 25 minutes or until both carrots and potatoes are done.
blend half the soup mixture in blender or magic bullet, return to pan.
Add cream or half-and-half, add basil, parsley and dill, salt and pepper. cook on low for 10-15 minutes.