gailanng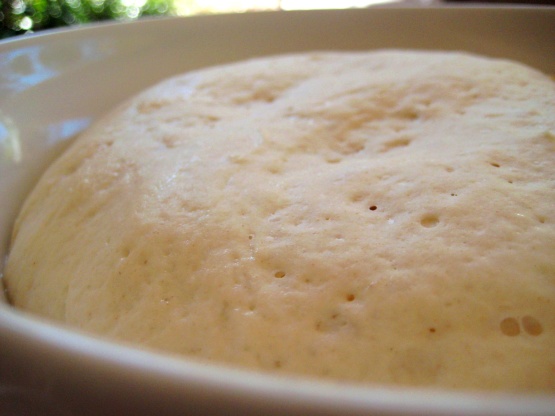 This is an excellent crust that requires no time to rise. Why order out when you can just throw this pizza together?
I've been using this recipe for a couple years now and we currently have home-made pizza night every Friday :) I try other recipes for pizza dough from time to time but I always come back to this one. I was very skeptical about making this recipe very first time because I had so many disaster pizza making experiences in the past but I really liked the idea of being able to make the pizza right away without the hour and a half rising time it usually takes. I'm so glad I tried this, and it has turned out wonderful from the first attempt... and every time since! I often add a dash of garlic powder to the dough, sometimes a pinch of oregano or basil too. I've used this to make one big single pizza by pressing the dough out into large pizza pan or pressing into a 9x13 inch glass baking dish (which makes a nice thick crust). No matter how thick or thin you roll it out it always turns out excellent! I NEVER pre-bake the crust and it's always perfect! I've been on the Weight Watchers plan on and off and have been using this recipe as a low point option by taking 1/6 of the dough and rolling it out really thin. This gives me a huge, thin crust pizza crust for only 4 points. I top with low fat options and bake for 12 minutes at 400 degrees. I make the rest into 1 or 2 additional pizzas for DH and DD. This dough also works really well for calzones. It makes 4 giant calzones, which I bake at 425 degrees for 20 minutes. Edit: I forgot to mention that I almost always let this sit for quite a bit longer than 5 minutes. What I do is make up the dough and then prep all my other stuff (toppings, my homemade sauce, etc.) and then roll out the dough when I'm ready. The nice thing is that I can be as quick OR as long as I want and the dough is ready and waiting for me :) Thank you for this great recipe!
Combine yeast and warm water.
Stir until dissolved.
Add remaining ingredients and mix well.
Let rest 5 minutes.
Roll out to size and shape you need.
(I have used this same size recipe in jelly roll pans and on round baking stones.) Bake at 450* for 15 minutes or until golden.
A couple tips: Sometimes I omit the sugar.
Instead, I add several good shakes of Italian seasoning mix (just dried herbs).
Use your imagination, this is hard to mess up.