Best Ever Spinach Souffle
karen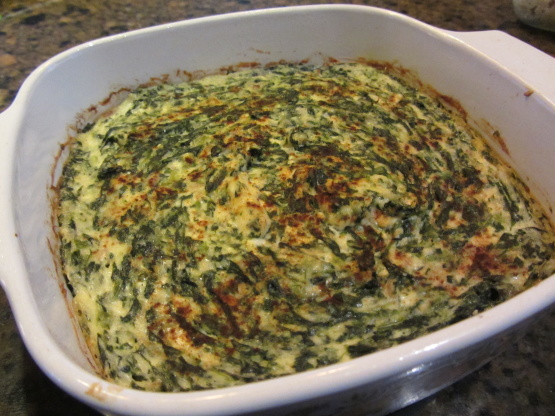 This is my great aunt's recipe. She is one of the best cooks I know. It is so good it is one of the best dish she makes. It tastes even better the next day microwaved. I eat it for breakfast. May need to be cooked longer depending on oven.

Top Review by karen
This recipe gets a solid 3 stars, meaning it was fine, but it just didn't make the list of one of my favorite spinach recipes. I guess I had higher expectations because I so rarely can find farmer cheese (my store only carries it at Passover time) and I wanted a recipe that would knock my socks off. This one was fine, but I would save my farmer cheese for something else. I did make a couple of minor changes to the recipe, but I doubt it had much of an impact. I cut the recipe in half, using 1 egg, used just farmer cheese (no cream cheese), used shallots instead of onions and sauted them in olive oil, not butter. The texture was perfect, just lacked a little punch for me.
Preheat oven to 325°F.
Cook onions and garlic with butter in small skillet.
Beat onion mixture, cream cheese, farmer's cheese, salt, and pepper with electric mixer.
Add eggs one at a time. Stir in spinach. Pour into a greased baking dish and sprinkle paprika on top.
Bake in oven for 40-45 minutes.