This is a recipe I just threw together when I was cleaning out my freezer, and noticed that I had "allot" of frozen fruit in there. I'm very pleased with how it turned out, and I hope you will enjoy it just as much as I did. Thanks!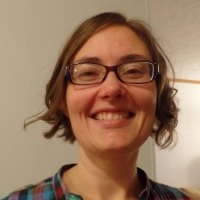 This was a very good pie. I admit I did not use the crust recipe, as I had a couple of refrigerated ones that needed used in addition to the frozen berries. I used a 16 oz bag of berries and approx. half of one more bag that I had leftover. I gave the mixture an extra squirt of lemon juice, about a 1/4 cup more sugar. While the filling was quite tasty, it did not fill the 9" pie plate I used. I needed about a half inch more filling. I'd make this again, but doubling the recipe to fill my pie plate.
Pie Crust: In a small bowl, stir together the ice water and vinegar, set aside In a medium sized bowl stir together the flour, salt and sugar.
With a pastry cutter or two knives, cut the butter into the flour mixture.
Stir in just enough of the water and vinegar mixture to bring the dough together, do not over work the dough!
Wrap the dough in plastic wrap and refrigerate until needed.
Stir in the almond extract (if using) only after the filling is cool Berry Filling: In a medium sauce, stir together all the ingredients, except the almond extract.
Bring to a boil over medium-high heat and set aside to cool completely Pie Assembly: Preheat oven to 350°F Cut the pie dough in half and set one half aside.
Roll out one half into a round 1/4 inch disk and fit it into a 9" pie pan.
Pour the cooled berry filling into the pie pan.
Roll out the second half of the pie dough to 1/4 inch thickness and cut it into 10, 3/4 inch strips.
Lay the strips in a lattice pattern over the berry filling.
Bake for 20-30 minutes or until the filling is bubbling and the crust is a light golden color.