Beets With Balsamic-Orange Dressing
teresas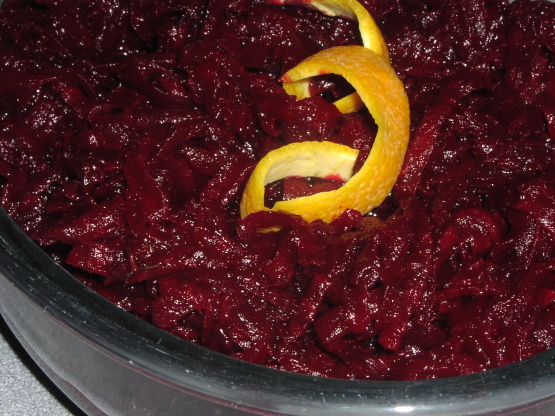 I recently made a duck recipe with a divine glaze, and was inspired to create this recipe. Beets are an under-appreciated vegetable. Roasting enhances their natural sweetness. This would be a nice accompaniment to roast chicken or pork.

The family really enjoyed this...I love beets but never made them fresh...always used canned...what a lovely "RED" experience this was. It took exactly 1 hour for the beets to get tender...I used fresh thyme and served it at room temperature. This paired well with recipe #459485...Thanks for posting it...:)
Line a roasting pan with aluminum foil. Place the scrubbed beets in the pan, cover with foil, and roast in a 400°F oven until they can be easily pierced, about 1 hour. (Or, you can wrap each beet in foil.).
While beets are roasting, mix together all remaining ingredients in a saucepan, bring to a boil, reduce heat and simmer for about 5 minutes. Set aside.
Peel and trim roasted beets. Grate on the large holes of a grater into a big bowl. Pour the warm dressing over the warm shredded beets - you may not need all the dressing.
Serve warm or at room temperature.
Note: I generally have around 1/3 cup dressing left. I add 1/2 teaspoons of minced garlic and use it to glaze pork chops or squash or sweet potatoes that I am roasting.