Baked Beets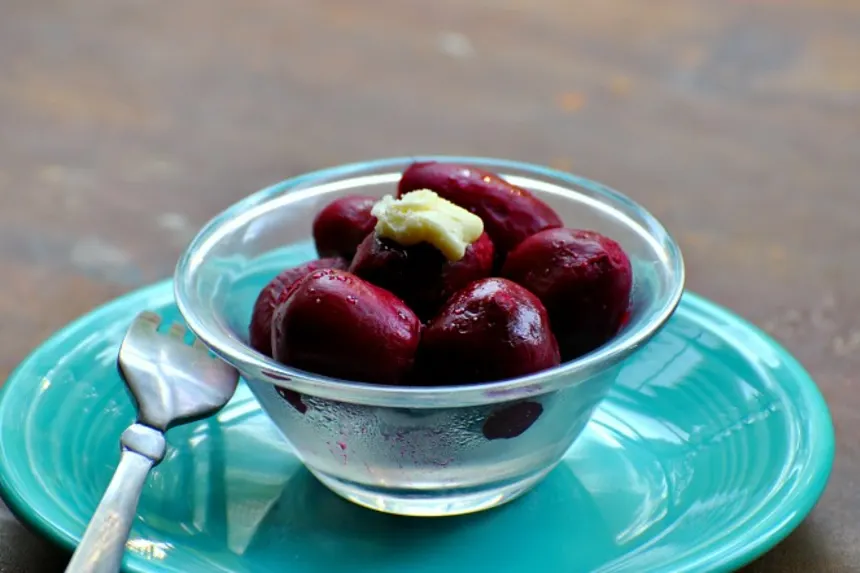 photo by Andi Longmeadow Farm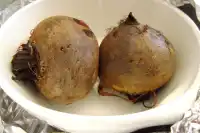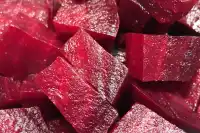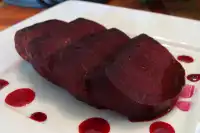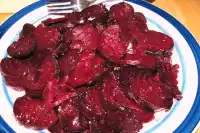 Ready In:

1hr 35mins

Ingredients:

7
ingredients
Baked Beets

3 -4

medium unpeeled unwashed whole beets

Dressed Baked Beets

1 1⁄2 - 2 tablespoons butter, melted
1⁄2 - 1 teaspoon sugar

salt & freshly ground black pepper

Baked Beets in Cream

1⁄4 cup heavy cream

salt and pepper
directions
Baked Beets: Preheat oven to 400°.
Trim roots and stems to 1/2", do not cut beets further!
;do not wash beets!
,if there is dirt that bothers you, wipe it off with a paper towel; moisture will cause the beets to steam and that is not what you want.
Place beets in a casserole, cover with the lid and seal the entire casserole tightly with foil; bake at 400° for 60-90 minutes.
When beets are cool enough to handle, remove the roots and skins; if you're using the beets whole leave the tails on, otherwise remove them; the skin can be easily slipped off with your fingers.
Beets are ready to be used in any recipe calling for cooked beets or try one of the two listed here.
Dressed Baked Beets: Put the skinned beets, whole, diced or sliced in a saucepan or skillet; add the butter, sugar, salt and pepper; heat and serve.
Baked Beets in Cream: Thinly slice skinned baked beets; heat in saucepan or skillet with cream, add salt and pepper; just before serving add lemon juice.
Reviews
Excellent way to make beets, one of our favorite fall vegetables. I liked not having to wrap the beets in foil, but put them in a covered casserole because we avoid cooking with foil. Great idea. In my ignorance,I have always washed my beets before baking them, not knowing that the water would make them steam not bake. Makes sense when you so plainly state it. The beets came out so tender and sweet that I just used a little bit of butter and just a pinch of sugar and salt. Couldn't be more delicious. Thanks Sugarpea for a new twist on baking beets.

 

I have never been a big beet fan, but as a get older I understand the importance of adding more nutritional food to my diet. I followed the recipe as provided and added the cream and lemon juice. It was very tasty. My wife who is also not a big beet fan tried it and enjoyed it. I will definitely cook again.

 

This is such an easy side dish to make. For my anniversity I made this but instead of cutting the beets up. I made something like radish rose with the whole beets, put them on the plates and drizzled the cream sauce over just before serving. The red beet juice swirling with the cream was a stunning visual presentation. And very tasty to eat. I planned beets in my garden so I can have this more often.

 
RECIPE SUBMITTED BY
I'm a former interior designer and landscape designer. At the moment I get to enjoy being at home and working only when I want to. I like rollerblading, hiking, backpacking and trips to the ocean. I grew up on a farm in the Midwest and moved to the Northwest when I was thirty, over twenty years ago. I'm afraid they'll have to bury me here in WA. This is God's country and I'm never leaving. I have a smallish collection of cookbooks, preferring to use the library and a copy machine. Among my favorites though, are: Recipes 1-2-3, by Rozanne Gold, a collection of recipes containing no more than 3 ingredients (excepting water, salt and pepper); A Treasury of Great Recipes, by Mary and Vincent Price, recipes collected from friends and chefs of great restaurants around the world; The Mediterranean Diet Cookbook, by Nancy Harmon Jenkins, about a collection of cuisines I'm convinced are the healthiest in the world and The Low-Calorie Gourmet, by Pierre Franey. Currently my passions are our dogs, the garden, cooking, the natural world and of course, Dh. I can now add Zaar to that list of passions (translate: addiction). We have three dogs, two rescued and one adopted. They are Sugarpea, a Golden Retriever, Chickpea, a Llasa Apso and Sweetpea, a Shih Tzu; small, medium and large. We're quite a sight out on the trail. One of the things I am most fond of about living here is the ability to vegetable garden year 'round.
View Full Profile