joe1435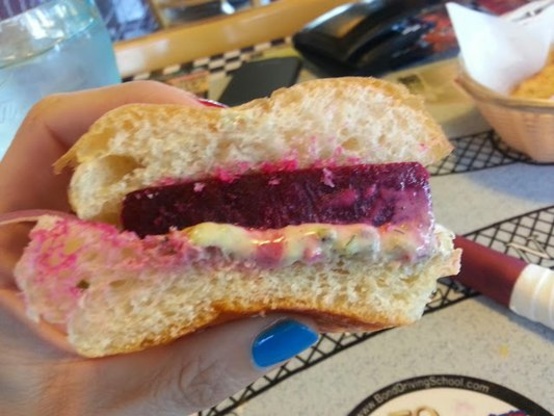 I saw this being made on Diners, Drive Ins, and Dives and then heard the raves from the customers and had to get the recipe. You gotta give this a try, you won't be dissapointed. :D If you can't find the Maggi seasoning, use sugar(it's the main ingredient of the seasoning). I haven't tried using the sugar, so use your own judgement on this. You can scale this down to feed less if you like. Recipe courtesy Chuck Caplener and Jared Nuttall, co-owners of Gatsby's Diner, Sacramento, CA.
4730.0

ml water

118.29

ml sea salt, plus a pinch

14.79

ml dried dill

8-10

sprig fresh thyme

4-6

bay leaves

6

dried arbol chiles

59.14

ml coriander seed

14.79

ml caraway seed

1

large carrot, coarsely chopped

2

stalk celery, coarsely chopped

1

large yellow onion, coarsely chopped

59.16

ml seasoning, sauce (recommended Maggi)

6-8

whole beets (depending on size)
sliced red onion, for serving

16-18

slider buns, toasted (at the restaurant they use potato rolls)

Green Goddess Dressing

1

bunch fresh tarragon, stemmed, finely chopped

1

bunch fresh parsley, stemmed, finely chopped

1

bunch green onion, finely chopped

118.29

ml buttermilk

14.79

ml lemon juice

118.29

ml white wine vinegar

236.59

ml sour cream

473.18

ml mayonnaise
salt and pepper
In a large stock pot, combine and the water, 1/2 cup sea salt, dill, thyme, bay leaves, chiles, coriander, caraway, carrots, celery, onions, seasoning sauce, and beets and bring to a boil. Boil on medium heat for about 1 hour.
Remove the beets and let cool, discarding the liquid. Once cooled, remove the skin from the beets with a vegetable peeler. (Remember to wear gloves, as the beets will stain your hands as well as other surfaces.) Cut the beets into 1/4 to 1/2-inch slices. Place the beet slices, a drizzle of olive oil, and a pinch of sea salt into a skillet over high heat and saute until glossy and tender, about 2 1/2 minutes on each side(or cook on a grill).
Remove the beets from the skillet and serve with shaved red onion and Green Goddess Dressing on a toasted slider bun.
To make Green Goddess Dressing:.
Combine the herbs, green onions, buttermilk, lemon juice, and vinegar in a mixing bowl. Let macerate for 10 minutes. Add the sour cream and mayonnaise, and blend with an immersion blender until creamy. Season with salt and pepper.