Annacia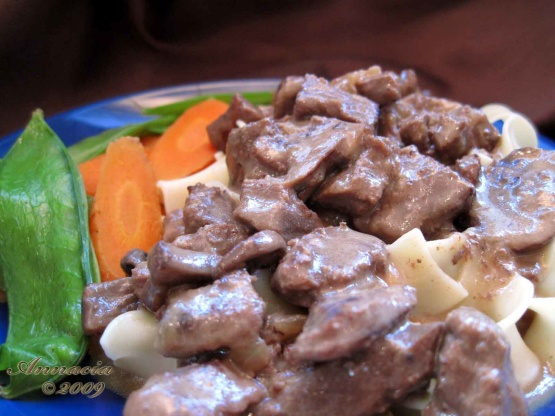 Here is a very yummy beef stroganoff that I originally found on Allrecipes.com (Beef Stroganoff III, by Donna). Slightly modified.
Remove excess fat from the beef and cut into bite-sized pieces. Season with salt and pepper.
In a skillet over medium heat, brown beef and onions quickly in the butter and then set aside.
Combine flour and broth in a bowl and mix well. Pour mixture into skillet and bring to a boil, stirring constantly until thickened.
Lower the heat and stir in mustard. Return beef and onions to skillet. Cover and simmer for 1 hour or until the meat is tender.
Ten minutes before serving, stir in the wine. Heat until alcohol smell is gone. Stir in the mushrooms and sour cream.
Serve over egg noodles.