AskCy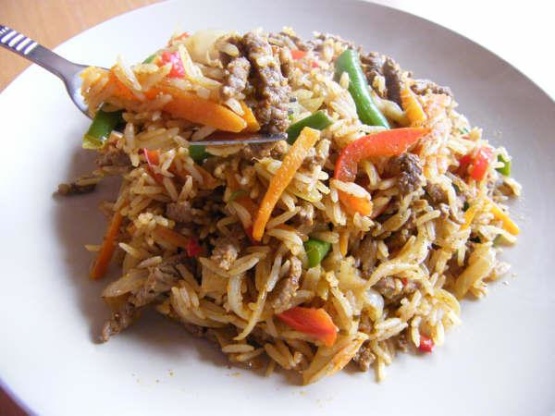 Takes a little bit of prep but makes a wonderfully taste meal. Its not really a specific dish just one of those things you make when you want a change.
30

ml oil (for cooking, I use olive oil)

400

g beef (cut into thin strips)

400

g rice

3

teaspoons cumin seeds (for powder mix)

1

teaspoon fennel seed (for powder mix)

5

star anise (3 in powder mix and 2 in the rice while cooking)

1

teaspoon green cardamom pods (for powder mix)

1

teaspoon ground fenugreek (for powder mix)
1⁄2 teaspoon ginger powder (for powder mix)
1⁄2 teaspoon turmeric (for powder mix)
1⁄2 teaspoon black peppercorns (for powder mix)

1

teaspoon smoked paprika (for powder mix)

1

teaspoon celery salt (for powder mix, use normal sea salt if you can't get it)

100

g green beans (chopped into inch pieces)

100

g carrots, finely sliced

100

g red peppers, finely sliced (its about 1 large pepper)

200

g onions, finely sliced

1

chili, finely diced

3

tablespoons soy sauce

3

garlic cloves, finely sliced
First add the rice to a microwave bowl.
place in the stockpot/cube, 2 star anise and 5 cardamons.
The cover the rice with hot water about 1inch (2.5cm) above the top of the rice.
Cook in microwave as per instructions (mine takes about 15minutes).
Place all the dry spices into a grinder/blender and grind to a powder.
While the rice is cooking fry off all the veg, chilli and the garlic (about 5-10minutes until soft).
Remove the veg from the pan and put to one side.
Let the pan get hot and add a drop more oil.
Fry off the beef until coloured.
add the spice mix (the powder mix) and stir in for a few minutes until nicely coated.
add back the veg and stir in.
add the rice (with its spices picked out) and stir into the meat and veg.
add the soy sauce.
serve at once.