Beef Short Ribs With Mushrooms
Prep 10 mins
Cook 3 hrs 20 mins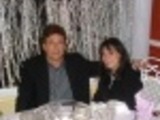 Real Simple Magazine October 2004
Make and share this Beef Short Ribs With Mushrooms recipe from Food.com.
Directions
Preheat oven to 325 degrees.
Combine the flour, slat, and pepper and dredge the short ribs. Heat half the olive oil in a Dutch oven over medium-high heat, then sear the beef on all sides until golden brown, 3 to 4 minutes per side. Remove the beef and set aside.
Add the onion and garlic and cook until brown and fragrant, about 2 minutes more.
Add the stock, scraping up any bits stuck to the pan. Return the beef to the pot. Bring to a boil. Cover pot and transfer to the oven. Cook until the beef is fork-tender, 2-1/2 to 3 hours.
In the last 15 minutes of cooking, heat the remaining oil in a heavy skillet over medium heat. Add the mushroons and cook until golden, 6 to 8 minutes. Toss with the parsley and season with salt and pepper.
Remove the ribs to serving dishes, place the pot over high heat, and reduce the cooking liquid until slightly thickened. Serve with the mushrooms and cooking liquid.
Reviews
Most Helpful
Wonderful! I plan to use this style of preparation with beef roasts in the future. I did alter slightly, as I didn't have beef stock available. I used 2c chicken stock, 1/4c cooking sherry, and 2 tbsp balsamic vinegar. Turned out perfect! I look forward to making this with beef stock next time, as the flavor will be richer. Thank you!

Wow, the family loved this recipe, I made as directed but needed more stock. The sauce was yummy on rice. I am emailing everyone to let them know of this great, easy meal. Great flavor and not salty. Thank you for a "keeper"
PERFECTION, and I even forgot the parsley. I bought beef ribs by mistake (meant to buy pork ribs), so looked for something tasty before summer sets in. This couldn't have been better. Because it was a very warm day, I cooked it on top of the stove in a heavy dutch oven. During the last hour I added carrots and half a head of cabbage (cut in sections), then during the last 15 minutes added the mushrooms. Three of us totally enjoyed it. The leftovers went back in the Dutch oven and tomorrow I'll make soup by adding more stock, onions and noodles. Thanks for posting a recipe we'll make again and again!
Holiday Central >