Slow-Cooker Beef Short Ribs
photo by DianaEatingRichly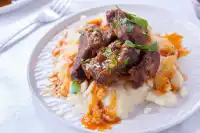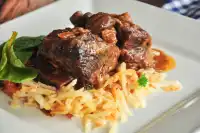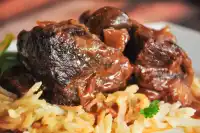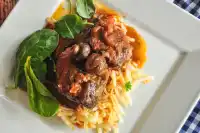 Ready In:

9hrs 10mins

Ingredients:

14
directions
Put flour, salt and pepper in a bag.
Add ribs and shake to coat.
Brown ribs in butter in a lg skillet.
Put in slow cooker.
In same skillet, combine remaining ingredients.
Bring to a boil, stirring.
Pour over ribs.
Cover and cook on low for 9 hours.
Questions & Replies

Reviews
I found this recipe after making an impulse buy of bone-in short ribs late this afternoon. Being new here, I decided to try a recipe rather than use one of my own. This recipe looked interesting, but there was not enough time to cook them in a slow-cooker so I made them in the oven: 350 degrees for 1 1/2 hours. I made a few modifications to the recipe (besides using the oven and bone-in short ribs) which I shall definitely do again. First, I do not have a sweet tooth, so I drastically cut the amount of brown sugar. I decided to gradually add brown sugar to the rest of the mixture so I started with just under 1/4 cup brown sugar (packed a 1/4 cup measure to about 1/3" from the top). I liked the taste of the sauce with this amount so I stopped adding more. The other modifications I made were: 1. Instead of 3/4 cup wine vinegar, I used 1/2 cup wine vinegar and 1/4 cup cider vinegar. 2. The recipe calls for 1 cup beef broth. I used an entire can of double strength Beef Broth, 10 1/2 ounces. For preparation: 1. I browned the short ribs in vegetable oil. Using short ribs with bones, there is more fat in them (than in the original recipe) and I wanted to discard the fat before continuing with the sauce. 2. I put the ribs in a Pyrex dish large enough for the ribs to sit beneath the rim and stuck them in the preheated, 350 oven while making the sauce. 3. I poured all the fat/oil out of the browning pan, but left all the brown flour. To this I added 2 Tbs. butter and sauteed the chopped onion a bit while measuring then adding the other ingredients. The brown sugar was added last. 4. When the sauce was done, I took the ribs out of the oven, covered them with sauce, then tightly sealed the dish with tin foil. 5. After one hour I removed the ribs from the oven, removed all fat on the surface, turned the ribs over, then put them back in the oven for another 1/2 hour. I will definitely make these again. I'm pretty sure the short ribs would have been done in 1 1/4 hours, but I was disorganized and had forgotten to start cooking anything to go with them. Oh, I could not get all the sauce in the baking dish I used. I probably have about a cup left. I intend to marinate chicken pieces in the left over sauce then cook them on the grill this weekend.

 

Yum, Yum! These were great. They were so tender with lots of flavor. Didn't need those knives as the meat would just fall apart. The family really enjoyed these and advised that the recipe is a keeper. Didn't have enough short ribs so I used some extra lean stew beef which turned out fine. I couldn't quite get it together early enough to get in the 9 hours of cooking but did make it to 7 hours.

 

I've made this about 6 times now; it's a favorite!<br/>My tips: 1) Preheat your crock on high as you gather the ingredients, and cook on High for at least an hour. Turn to Low. Go to work or to sleep.<br/><br/>2) I pour out the pan juices into a sauce pan and thicken by adding corn or potato starch. (1tbsp mixed w/ a bit of cool water, stir in, boil, and reduce.)<br/><br/>3) Ginger, sesame oil and some soy/ teriyaki (sp?) sauce instead of Worcestershire sauce gives a wonderful Asian slant.<br/><br/>Thank you for sharing!

 
Tweaks
What a delicious recipe. I will be using this recipe again and again. The only thing I did differently was to use Pork Short Ribs instead of the Beef Short Ribs. I also used chicken broth instead of beef broth. The recipe called for 3/4 cup of brown sugar, I used 1 cup of brown sugar.<br/> I didn't have 9 hours to make these so I cooked them for 5 hours on high in my slow cooker.I can't say enough about how delicious the ribs were. The meat was so tender.....tomorrow pulled pork sandwiches.

 

Made this 3 times now and found I like the following: 1) I care for a bit less sweetness so I dial the sugar down, 2) Add red wine and play around with that and the amount of red wine vinegar (ex: instead of 3/4c rwv i use 1/2c rwv and 1/2c red wine). 3) Tried boneless chuck roast and beef ribs both amazing, like that the roast had less fat. 4) I never have chili sauce and since most of the ingredients of chili sauce are already in the recipe... I just omit it. And this is the family's fav recipe so I think it's been safe enough to leave out. So delicious! Thanks for posting!

 
RECIPE SUBMITTED BY
After DH and I moved away from the farm, and to the city...I haven't done as much cooking and very little canning. But I do come to Zaar and look for new recipes once in a while. I'm still cooking Zaar!! I like to play at Facebook, with my family and friends. A lot of my Zaar friends are there!! Yay! It's a good way to keep in touch. We travel more. We're looking at the European trips now. Hope to go in the springtime. I really want to see London, I think I lived there in a past life, I've been obsessed with it since I was 10 years old!!
View Full Profile