Bbq Grilled Chicken Kebabs
awalde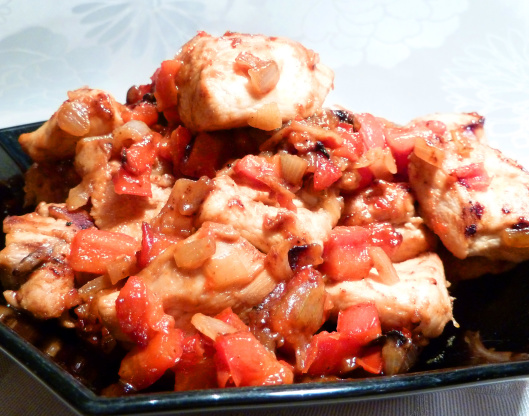 This was the recipe of the week from the Slim Lines column by Alva Carpenter of the Thursday magazine's issue dated Jan 15-21'04. Enjoy!

Top Review by awalde
I used red pepper and I renounced to mushrooms, as we had mushrooms in an other dish yet.
Yammi, the marinade come out well and we used the rest of the marinade as described.
I loved the huge quantity of lemon. This dish, served cold can make a great salad too!
Thanks for posting it!
In a glass baking dish, combine the first 6 ingredients together.
Add the chicken pcs.
Mix well to coat the chicken with the remaining ingredients.
Cover.
Marinate for 2 hours atleast in the refrigerator.
Prepare your grill in the meantime.
Remove the chicken pcs.
from the marinade.
Boil the marinade in a saucepan for 10 minutes.
Alternate the chicken pcs.
and the vegetables on skewers.
Grill 15 cm from medium-hot coals for 15-20 minutes, or until done, turning and basting every few minutes with the marinade.
Serve hot.
Enjoy!