Prep 30 mins
Cook 10 mins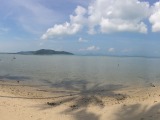 The reviews are EXCELLENT! We have used this recipe many times and everyone that enjoyed shrimp totally loved them.
Directions
In a shallow, non-porous dish or bowl, mix together olive oil and melted butter. Stir in lemon juice, mustard, basil, and garlic, and season with salt and white pepper. Add shrimp, and toss to coat. Cover, and refrigerate for 1 hour.
Preheat grill to high heat. Remove shrimp from marinade, and thread onto skewers. Discard marinade.
Lightly oil grill grate, and arrange skewers on preheated grill. Cook for 4 minutes, turning once, or until opaque.
Most Helpful
Five stars with the following modifications: cut the mustard (Dijon) by half and marinate for 20 minutes (just long enough for the coals to heat up on the grill). Very tasty summer dish; I will definitely be making it again this summer!