Basboosa - Easy Semolina Cake
Arc-cook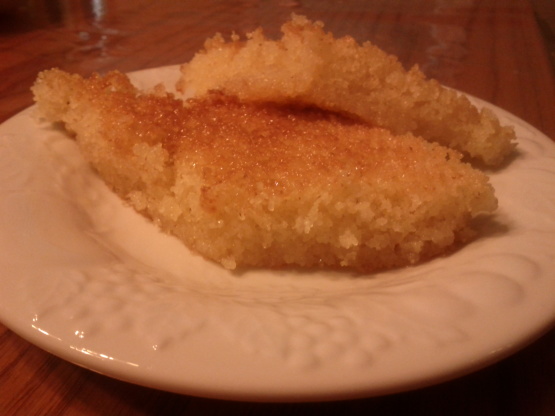 This has been a favorite dessert in many Middle Eastern and North African countries- this is my mother's recipe. It's very simple and easy to remember.

I made this recipe exactly as stated except I poured the batter into cupcakes! You take the mini cakes and set them on plates, then soak with the syrup. It's delicious. This is very similar to cakes some of the old aunties at the masjid will make for Ramadan Iftars. It looks very elegant to have a little miniature cake -- turn it upside down on the plate and garnish with sprigs of mint and some fruit slices for presentation. This recipe is super easy and would be great for kids learning to bake.
First make the cake:.
Preheat oven to 350.
Mix together flour, sugar, and baking powder very well in large bowl.
Melt butter, add into mixture.
Add yogurt into the mixture, mix well.
Add eggs, mix well again.
Beat mixture for 2 minutes til there are no lumps.
Pour into 9 X 13 inch baking pan brushed with very little oil.
Bake in middle rack of oven for 45 minutes.
While the cake bakes, prepare the syrup:.
Mix 3 cups sugar & one cup water in a pot, put on stove on high heat.
Add in vanilla and cinnamon stick. Stir well.
Squeeze half lemon into mixture, drop the lemon itself in there after squeezing.
Mix well, let boil for 1 minute, remove from heat.
After cake is a golden color (after about 45 mins), remove from oven, and let cool for about 5 minutes.
Pour syrup onto the whole cake, let cool. Cut into as many pieces as you like.
Enjoy!