Bananalisious Banana Muffins
Katzen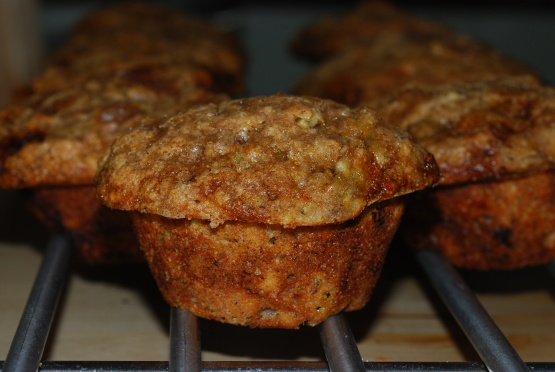 These muffins have a moist delicate texture with a lovely banana taste! This is one of my favorite banana recipes because its tasty and reduced sugar and fat. WW points = 3 according to online calculator

Top Review by Katzen
Fantastic muffins! I made a couple of changes due to what I had on hand... I used 1/2 sugar blend splenda and 1/2 brown sugar blend splenda; I used applesauce plus a tbsp of canola oil to make up 1/2 cup of butter, and 1/2 cup of my flour was whole wheat. I also sprinkled a bit of cinnamon sugar on top for crunch, and threw in a handful of walnuts. They turned out fabulous! These are definately a recipe I'll make again! My muffins were large, so I got 9 instead of 16. Thanks so much, Brooke!! Made for Zaar Stars Tag.
Pre-heat oven to 350 and prepare muffin tin.
Stir together bread flour, salt and baking soda. Set aside.
Cream together butter, splenda and sugar.
Add egg whites one at a time until thoroughly combined.
Add banana's and mix until combined.
Dumb flour mixture into banana's and stir slowly until just moistened.
Divide into prepared muffin tins and bake for 25 minutes until toothpick comes out clean.
Set pan on wire rack for 5 minutes to cool before moving muffins directly to rack to cool completely.
To Freeze: Cool completely and place in zip-lock baggie. To unthaw, remove from freezer, place on counter and allow to come to room temperature.