alligirl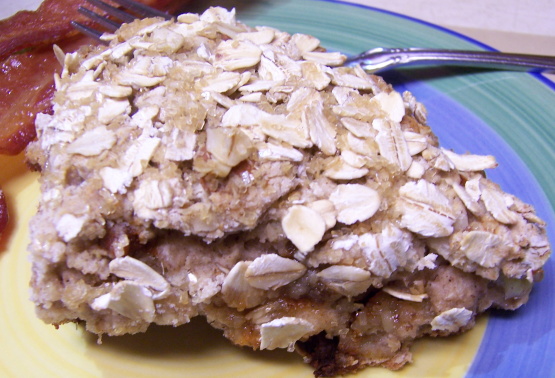 I made these up this morning when we were looking for a different flavour of scone for breakfast - and well, the very ripe bananas were calling me! I went easy on the sugar in the scones, and I sprinkled the top with Turbinado Sugar and oats to mimic a cruchy topping. These are not your typical buttery scones, but hearty, healthy, and hold you till lunch scones! If you don't have cinnamon chips, add a tbsp brown sugar, or you might wish to add raisins or chocolate chips, if you like your banana bread that way. This is my basic scone formula - I just change up the fruit and nuts to keep it interesting!

What a FANTASTIC recipe, Kat!!!! I would definitely buy these if you were to sell them. lol I loved how yummy these were while still quite healthy and very filling. I made one change by using apple sauce in place of the banana (due to me not being allowed to eat bananas), which worked out really well. I needed a bit less milk than called for, but other than that everything was spot on. The cinnamon chips were a lovely addition and complemented well with the hearty nuts and oats. Mmmm! Next time I will try dried cherries or organic raisins to see how we like that for a change. I really cant wait to make these heavenly scones again! THANK YOU SO MUCH for sharing your wonderful recipe with us! Made and reviewed for PRMR Tag Game April 2010.
Heat oven to 400.
Mix dry ingredients together (oatmeal, flours, baking powder, cinnamon). Stir oil into dry ingredients well. Add cinnamon chips and walnuts and stir. In a clear measuring cup, add mashed banana, milk to 3/4 cup (banana plus milk should equal 3/4 cup), and vanilla. Combine wet and dry ingredients; stir until the dry ingredients are damp.
Drop dough onto parchment paper lined or greased baking sheet, and form into a 5" diameter circle. Cut into four triangles - it's ok to leave them in a circle. Sprinkle with oats and sugar.
Bake at 400 for 20 minutes, until lightly browned.