Banana Chocolate Chip Cake
Redsie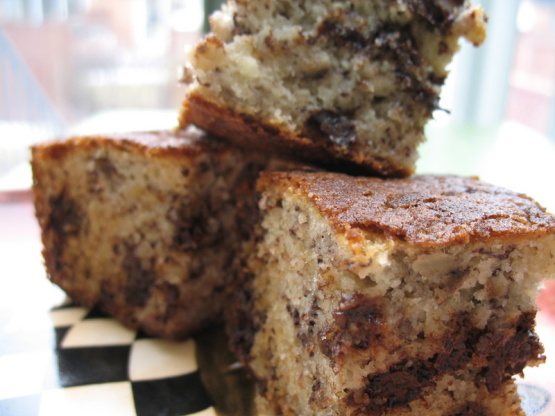 My grandmother used to send me this as a care package in college. It never lasted more than a minute! A favorite of all my friends. ETA--i recently made this with low fat sour cream. It really lost something. I recommend using full fat.

I followed this recipe EXACT- cake is not aesthetically pleasing, cooked 15 minutes longer than suuggested time and top did not cook evenly it was browned outside and middle, with a goey everywhere else. I used a 9in round standard cake pan-as for flavor- it was OK the chips did not evenly distribute, they sort of sunk to the bottom.
Preheat oven to 350°F.
Cream butter and sugar.
Beat eggs very lightly and add.
Dissolve baking soda in sour cream. Add to mixture and beat well.
Add mashed bananas, flour, salt, and vanilla. Mix well.
Mix in chocolate chips.
Bake in a well greased 8"x8" pan for 30-35 minutes or until a toothpick inserted in the center of the cake comes out clean.