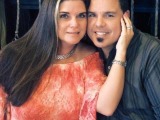 This is a very versatile shake, you can use mixed berries or extra banana for a big banana flavor!
Directions
In a blender, blend the banana, the blueberries, the honey, and the yogurt until the mixture is smooth and chill the mixture for 1 hour if desired.
Pour the mixture into chilled glasses.
(Frozen blueberries result in slightly thicker shakes.).
**Cook time does not include chilling shake for an hour.
Most Helpful
This is a really delicious and refreshing shake. I used frozen blueberries and bananas because I really like a thick shake. Great flavor!
Mm, very nice, I loved the yogurt. I used a plain 1% yogurt. This was a very good breakfast, thanks!

I made this shake for breakfast Juenessa. What a tasty treat. I used 1 1/2 bananas and 1 1/2 cups of frozen blueberries, vanilla bean yogurt and alfalfa honey. I didn't need any ice cubes. This was a lovely, thick, rich, smooth shake. I enjoyed this very much, thanks for sharing.