Baked Sauerkraut With Apples
Derf2440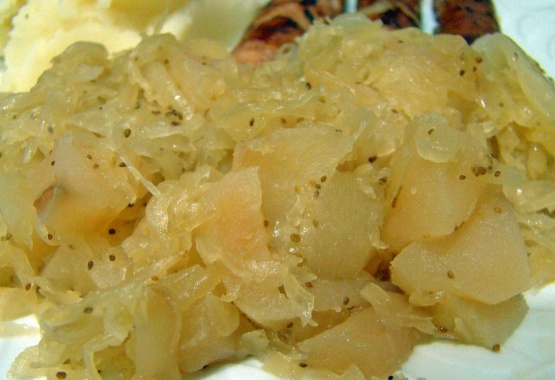 This German recipe is borrowed (with a tweak) from Recipes4us.co.uk. The original recipe calls for 120ml beef stock, but I wanted a vegetarian version. You could revert to the beef stock or replace my suggested vegetable stock with a small amount (say ½ teaspoon) of Marmite or Vegemite dissolved in 120ml of very hot water. Recipe posted for Zaar World Tour 2005.

very good, we liked it a lot! Just made half a recipe for the two of us and served it with turkey/onion sausage and mash potatoes. the celery seed and the wine really make the recipe. We enjoyed it very much and will make it again, thanks for posting.
Heat the butter in a large oven proof lidded casserole dish, add the onions and sauté until soft and transparent.
Add the sauerkraut, mix well and cook, uncovered, over a low heat for 5 minutes.
Add the apples to the sauerkraut mixture together with the wine and enough stock to cover; mix well then continue to cook over a low heat for 30 minutes; preheat the oven to 170C, 325F, gas mark 3 during this cooking time.
Stir in the sugar and celery seeds then cover and transfer to the oven; bake for 30 minutes and serve hot.