Baked Potato Salad - Loaded!
ImPat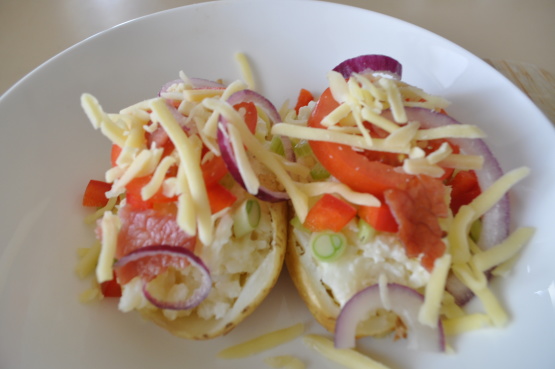 This is a delicious potato salad that celebrates the tastes of summer. I found that using only sour cream for the dressing made it a little too rich tasting, so the yogurt adds a bit of a bite. Topped with what I like to put on my baked potato, this is a colorful assortment of flavors that you can make for a potluck or summer picnic.

Top Review by ImPat
I made for 2 using two medium potatoes which I roasted with skin on at 175C for an hour. The first one I split and scooped the flesh out and mashed it with sour cream mix (sorry ran out of yoghurt), the second I chopped up into chunky pieces and tossed in the sour cream mix and then topped up both with, finely diced celery, finely sliced red onion, finely sliced spring onion, sliced tomatoes (fresh from the garden), finely diced red capsicum (bell pepper), bacon and the cheese (my cooked egg had disappeared from the refrigerator and it was too late to cook another). Thank you Nif for a great lunch from the DM and me, made for Went To Market.
Bake the potatoes either in the oven or the microwave until cooked through. Let cool.
Meanwhile, mix sour cream, yogurt, mustard, onion powder and celery seed in a large bowl.
Cut new potatoes into bite-sized pieces (in half or quarters (depending on the size). Add to bowl with dressing, along with egg pieces and celery. Gently stir. At this point, you want to really taste the salad and add salt and pepper, using as much or as little as you prefer. I use about 1/2 teaspoon of both.
Put salad into a serving bowl. Top with tomato, cheddar, then bacon bits and onions and chill!