PaulaG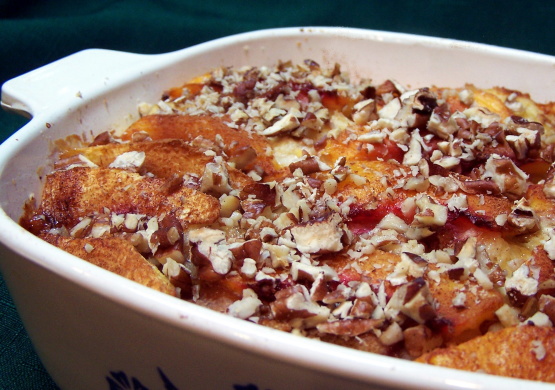 To the warm syrup, you may add your Gran Marnier, or Bourbon or a bit of Rum or brandy. But I think I would add it to the whipped cream just after it starts to peak. Cream and alcohol seem to compliment one another well. Prep/ Cooking time does not include the time you allow the French toast.
Top Review by PaulaG
I made this last night, refrigerated and then baked it this morning after allowing it to sit out for about an hour. The recipe was reduced to 2 to 3 servings which worked quite well. The bread was whole wheat French bread. I used non-fat milk and egg substitute. Instead of adding the pecans after all was cooked, I sprinkled them on the last 15 minutes of cooking which gave them a nice toasted flavor. I did follow your lead and poured hot maple syrup over the cut casserole. The directions say to preheat oven to 400 degrees and then bake at 350 degrees, I split the different and baked this for 45 minutes at 375 degrees.
Preheat your oven to 400 degrees. Spray 9x13 pan with vegetable oil spray. Trim off crusts and slice bread into small 1/2 inch cubes. Place bread tightly together in one layer in 9 x 13 pan.
Beat eggs-add milk, 1/4 cup sugar, nutmeg and vanilla and mix with whisk until sugar is dissolved. Pour half of the liquid over the bread. Take a large spoon and press bread under the milk until it is covered by the liquid.
Peel and slice peaches into 1/2 inch slices. Arrange peach slices on top of bread to cover. You can do straight rows or arrange in concentric circles from the middle outward.
Pour remaining egg mixture over peaches. Mix remaining 1/2 cup of sugar with cinnamon and sprinkle evenly over peaches. Dot with butter. Bake at 350 degrees for about 45 minutes to an hour. It can be done the night before to let the bread soak up the milk mixture and for flavors to meld. Refrigerate. Do not bake it until just ready to serve.
After baking, let is rest about 5-10 minutes before serving. It will settle like a soufflé. I heat the Maple syrup gently but until it is very hot and pour into crevices of finished dish AFTER cutting it for a serving. Sprinkle chopped pecans over all and serve immediately.