Baked Buffalo Chicken Breasts
Dine Dish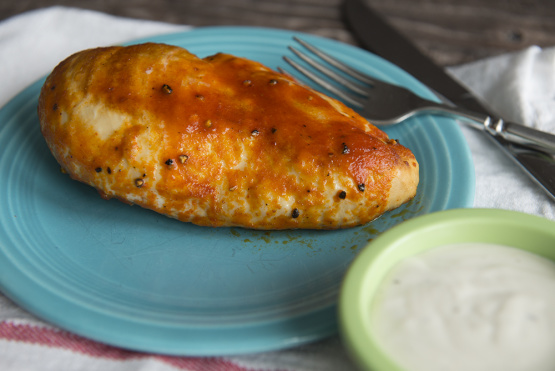 These buffalo chicken breasts are as good as buffalo chicken wings without all of the mess.

I made this last night and it was delicious! I, too, used Frank's brand buffalo sauce (every restaurant I've ever worked at or loved the wings from uses Frank's!). I didn't have celery salt so I skipped it but I'll try it next time. I had chicken breast cutlets so I used those and they came out so flavorful and moist. Few things: I dredged the chicken in flour before I browned it to give it a slight coating, I used REAL butter (because I think margarine is a joke), I used more sauce (enough to really coat both sides of all 8 of my cutlets), and I sprinkled them with sesame seeds (just because I see a lot of places do this with their wings so it seemed like a good idea!). Thanks for a great recipe that made my new husband think I'm some sort of a good cook!
Preheat oven to 400 degrees.
Spray skillet with cooking spray. Add chicken and cook 4 minutes each side until browned.
Place chicken in an 11 x 7 baking dish coated with cooking spray.
Combine hot sauce and next 4 ingredients. Pour over chicken and bake uncovered for 25 minutes. Serve with dressing.