PaulaG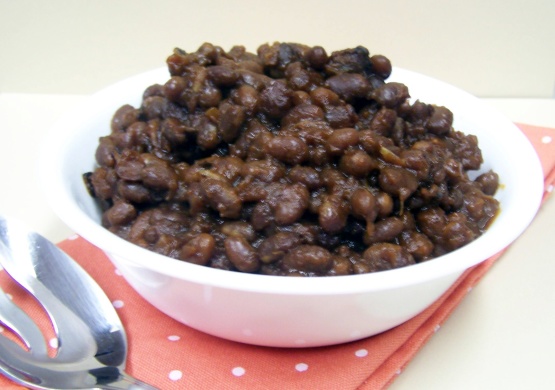 These are the best baked beans I've ever tried, bar none. The beans need to soak for at least 12 hours before being used in the recipe.

I am sorry to say these did not turn out well. Maybe I did something wrong? I just thought that the coffee was too overpowering for the beans. It was worth a try though. Always trying to find new meals for my crockpot !
Rinse soaked beans and place in large pan with enough fresh water to cover.
Cook, covered, over medium heat for one hour or until tender.
While beans cook, sauté bacon in a skillet until lightly browned, remove and set aside, then lightly sauté the chopped onions in the remaining bacon fat until translucent. Remove onions and set aside.
In a saucepan, combine maple syrup, molasses, pepper, mustard, ketchup, tomato paste, brown sugar, Tabasco, the orange juice, the pineapple juice, the coffee and the stock. Cook over medium heat for 1 hour, stirring occasionally.
Combine beans, sauce, onions and bacon in a crock pot. There should be enough liquid to cover the beans generously. If not, add some more stock, or combination of juices.
Cook at low for 12 hours, at high for 8.
Taste for seasoning near the end of the cooking time and add salt if needed.