Bailey's Irish Cream Liqueur (Gift-Giving or for Yourself!)
HisPixie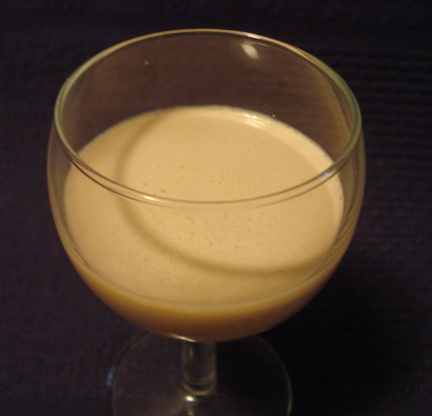 This is the cat's Meow! I know you are saying there are already a lot of recipes on this site for the same thing, I researched them before posting mine and this one is just a little different so here it is. Everyone I have ever served this to absolutely goes beserk over the taste and says it's as good as the real thing. It's so much cheaper too! I found this on an internet site, but can't remember which one, it was to long and to many fifths ago!! You can easily double the recipe.

Top Review by janl88
I have made this recipe 3 times and getting ready to make the 4th time. First batch I went by the recipe. My hubby thought it was too thick for his taste (he just uses in coffee). So - instead of adding the eggs I left them out and only used 1/4 tsp almond extract. We love it!! Also - I used half/half the 2nd and 3rd time (all I had) and turned out great! Thanks
1

cup whiskey (inexpensive middle of the road is okay)

1

(14 ounce) can sweetened condensed milk

1

cup whipping cream

4

eggs

2

tablespoons chocolate syrup

2

teaspoons instant coffee granules

2

teaspoons vanilla extract

1

teaspoon almond extract (Torani brand almond syrup is a wonderful replacement if you can find it in your area)
In blender, combine all ingredients; blend until smooth.
Store tightly covered in refrigerator up to one month. (It won't last that long!) Shake bottle well before serving, and return remaining liqueur to refrigerator.
Note: Use only Grade A, uncracked eggs.